I'd say that about ninety-five percent of the recipes I find printed on sugar packaging are for baked goods, generally cookies. A recipe like this one for Cedar Planked Salmon with Brown Sugar definitely stands out as unique. I'd never tried cedar plank grilling before, but at Whole Foods this weekend when my hand actually grazed a stack of individual portion-sized grilling planks as I was reaching for my salmon order, I took it as my cue that the time had come.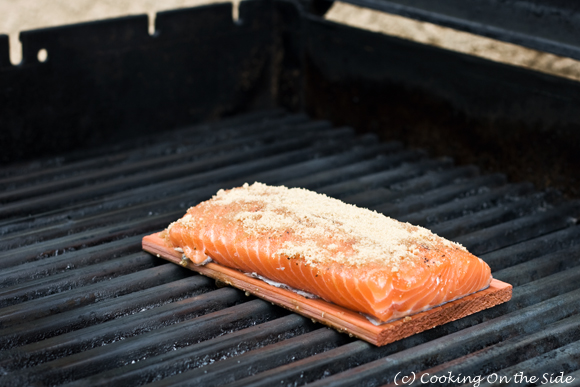 In case you haven't tried it before, grilling with cedar planks imparts gentle smoky flavor into fish, poultry or meat. Coupled with the sweet brown sugar rub…I had no idea how much I was going to love this salmon!
After twelve minutes on the plank, the fish came out perfectly moist and juicy. I definitely got the wood and smoke flavor from the plank. But like I said, it's a really gentle flavor – not strong like a smoked salmon. The brown sugar melts into a sweet glaze on top and makes the salmon irresistible.
I don't think I want to grill salmon again without one of these planks!
Cedar Planked Salmon with Brown Sugar
From the back of the C&H Pure Cane Golden Brown Sugar package
Prep time: 2 hrs 5 min (including grill plank soaking) | Cook time: 12 min | Total time: 2 hrs 17 min
Yield: 6 to 8 servings
INGREDIENTS:
2 1/2 lb

salmon, center-cut fillet with skin

1/2 to 1 cup

brown sugar, packed

Sea salt & pepper to taste

Water

1 cup

dry red wine (optional)

Cedar plank (available at kitchen stores and specialty markets)
DIRECTIONS:
Soak the cedar plank in water and wine for 30 minutes.*
Wash and pat dry salmon; season with salt and pepper to taste.
Place fillet, skin side down, on wet plank.
Cover entire fillet with brown sugar.
For charcoal or gas grilling, use indirect heat method **, cover grill and cook for 12 minutes.
* I followed the soaking directions that came with my wood plank, which called for 2 hours' soak time, and added in the wine for the final 30 minutes.
** Indirect cooking means the coals will be arranged away from the food. Place a foil drip pan (large enough to cover the surface below the food) in the center of the fire-box and mound the coals all around the pan, using long-handled tongs. For a gas or electric grill, follow manufacturer's directions for indirect cooking. For 2- or 3-burner unit, one burner is usually turned off after preheating and the food is placed over the unlit burner. For 1-burner units, the burner is turned to LOW.