After the vaguery with last week's quiche recipe I had some residual "recipe paranoia" as I approached the Maple Pumpkin Cheesecake recipe inside the KitchenAid stand mixer instruction manual. I really, really wanted it to come out well as it sounded like the perfect Thanksgiving dessert recipe (especially with the praline-like maple pecan glaze). But, historically, I've had one big, consistent, nagging cheesecake problem: cracks.
I know that a cheesecake with cracks is still a tasty cheesecake, but I didn't want 'em. So I pulled out every trick I could find to avoid cracks. It turns out this stand mixer booklet recipe deviated from the Google consensus of cheesecake wisdom in a variety of ways. Indulge me in a little chart (we've already established I'm Type A, right?):

So I stuck with the recipe's ingredient list but largely abandoned its directions in favor of these crack-proof tips I found. How did I do??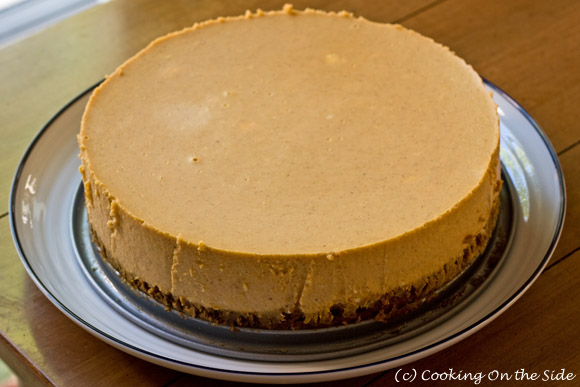 BEHOLD! PRISTINE! NO CRACKS! HALLELUJAH!
This was a significant day in my cooking life – my very first crack-free cheesecake. True, I didn't have a chance to try the recipe as written to know for sure whether it would have steered me down a bad path. I just didn't want to chance it, and I'm beyond happy with the results I achieved using the tips I found. More importantly, it tasted divine. The maple pecan glaze on top is like candy, I found myself snacking away on bits that "fell off". And, hey, if I had wound up with a crack or two the glaze would have hidden it well. 🙂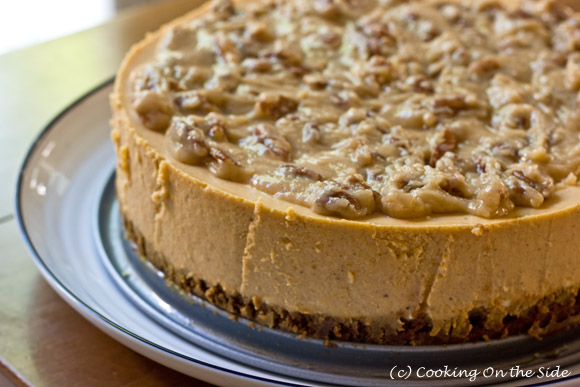 Maple Pumpkin Cheesecake
Adapted from the recipe booklet inside the KitchenAid Stand Mixer box
Yield: 12 servings
INGREDIENTS:
1 1/4 cups graham cracker crumbs
1/4 cup sugar
1/4 cup (1/2 stick) butter or margarine, melted
3 (8-ounce) packages, cream cheese, softened
1 (14-ounce) can sweetened condensed milk (NOT evaporated milk)
1 (15-ounce) can pumpkin
3 eggs
1/4 cup maple syrup
1 1/2 teaspoons ground cinnamon
1 teaspoon ground nutmeg
1/2 teaspoon salt
Maple Pecan Glaze
3/4 cup maple syrup
1 cup whipping cream
1/2 cup chopped pecans
DIRECTIONS:
Preheat the oven to 350°F.
Combine crumbs, sugar, and butter in a small bowl; press firmly on bottom of 9-inch springform pan. Bake crust for 15 minutes. Set aside. Reduce the oven heat to 325°F.
In a stand mixer, cream cheese on medium-low speed until smooth and fluffy (be careful not to whip too much air into it). Stop and scrape bowl. Gradually pour in condensed milk and mix on medium-low until smooth. Add pumpkin, eggs, maple syrup, cinnamon, nutmeg and salt. Mix on low speed until well combined.
Put on a kettle of water to boil. Place the springform pan in the middle of two large criss-crossed sheets of aluminum foil (to help prevent moisture from leaking into the pan). Wrap the  sides of the pan with aluminum foil and trim. Place the aluminum wrapped pan in a large roasting pan (large enough so that there is room on all sides). Pour the pumpkin cream cheese mixture into the springform pan.
Place the roasting pan containing the springform pan in the oven on the middle rack. Pour boiling water into the pan so that it comes halfway up the side of the springform pan. Bake for 1 1/4 hours or until center still jiggles slightly when shaken. Turn off the oven, prop open the door and cool the cheesecake in the oven for an hour. Continue cooling on a wire rack until it reaches room temperature. Cover and chill in the refrigerator for at least 4 hours.
To serve, spoon Maple Pecan Glaze over cheesecake. Garnish with whipped cream and pecans, if desired. Pass remaining sauce. Store leftovers covered in refrigerator.
To prepare Maple Pecan Glaze, combine maple syrup and whipping cream in medium saucepan. Bring to boil. Boil rapidly for 15 to 20 minutes or until thickened, stirring occasionally. Stir in chopped pecans. Cool completely.
Here are some other yummy-looking Pumpkin Cheesecake recipes you might enjoy: