Do you know what it means to "Scald cream"? Would you know what to do if a recipe said to "Sauté onions – set aside", with no advice on type of pan, amount of oil, degree of heat or markers to know when it's done? If you read, "lightly beat eggs then add to [scalded] cream", would you think about tempering the eggs first?
I'm not a chef, but I play one on this blog (ha ha). I know how to sauté onions and temper eggs…but scald? I had a hunch but I confirmed with Mr. Google just to be sure (phew, I was right – heat just until boiling). It always surprises me when recipes – especially those that appear on a supermarket food label, where the audience likely includes many novice cooks – assume a certain level of cooking knowledge. No offense to the company, but as I was preparing this Quiche Lorraine recipe I couldn't help but think of food writer Dianne Jacob's list of seven common recipe writing errors…specifically the one about incomplete directions.
The good news is that it's actually a fantastic brunch recipe, once you're clear on the steps to prepare it. It calls for ham as well as the traditional bacon for even more flavor. They're both, of course, fabulous with nutty Gruyère. Experienced cooks will have no problem at all executing this recipe, but for the novices out there I've added in a few notes to help you through it.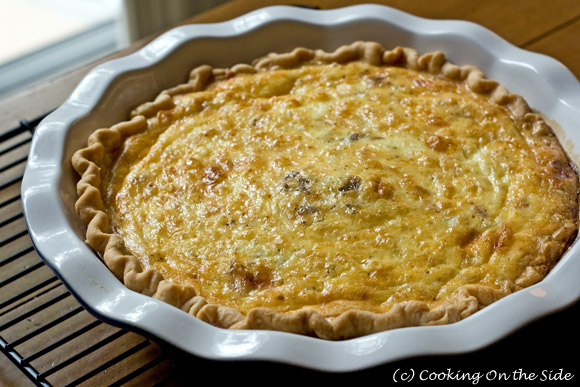 Quiche Lorraine
Adapted from the Wholly Wholesome Pie Crust package
INGREDIENTS:
1 pie crust
4 large eggs
1 1/4 cup light cream
3 strips cooked bacon, crumbled
3/4 cup shredded Gruyère (alternatively, try Swiss)
1 tablespoon olive oil
1/2 small onion
3 pieces of lean deli ham
1/8 teaspoon nutmeg
1/8 teaspoon paprika
1/8 teaspoon black pepper
DIRECTIONS:
Pre-bake pie crust according to recipe or package directions. Let cool for approximately 10 minutes.
Heat oven to 350°F.
Tear up ham into small pieces, set aside. Sauté onions, set aside (heat olive oil in a skillet over medium-high heat; add onions and sauté until soft and translucent). Fill bottom of pie shell with 1/2 cup of shredded cheese. Layer ham, bacon, onions and add remaining 1/4 cup of shredded cheese.
In saucepan, scald cream (stir over medium heat just until boiling). In a separate bowl, lightly beat eggs then add to cream (I'd strongly suggest tempering your eggs first so they don't wind up scrambled – here is a great tutorial from Serious Eats). Remove from heat. Add nutmeg, paprika and pepper.
Pour egg mixture into pie shell. Place quiche on cookie sheet to protect oven should quiche boil over. Place in the oven on the center rack and bake for approximately 45 minutes or until center sets. Remove from oven and cool on wire rack for 30 minutes.
Serve or refrigerate for up to 3 days.