I am this close to finally canning something!
Waterbath canning just might be my cooking Mt. Everest. I really want to conquer it, but I'll admit I'm still a bit intimidated by the process. So far, I've been having fun with just the actual jam- and jelly-making part. That part is incredibly easy, and the taste of homemade preserves is better than anything you can buy. This amazing Homemade Pepper Jelly is the third or fourth preserve I've made since I first tried my hand at Strawberry Freezer Jam a few years ago. There's a little heat from the jalapeños, but overall the jelly is rather mild. The sweet heat paired perfectly with my favorite Manchego cheese, and it's also wonderful with meats and on sandwiches.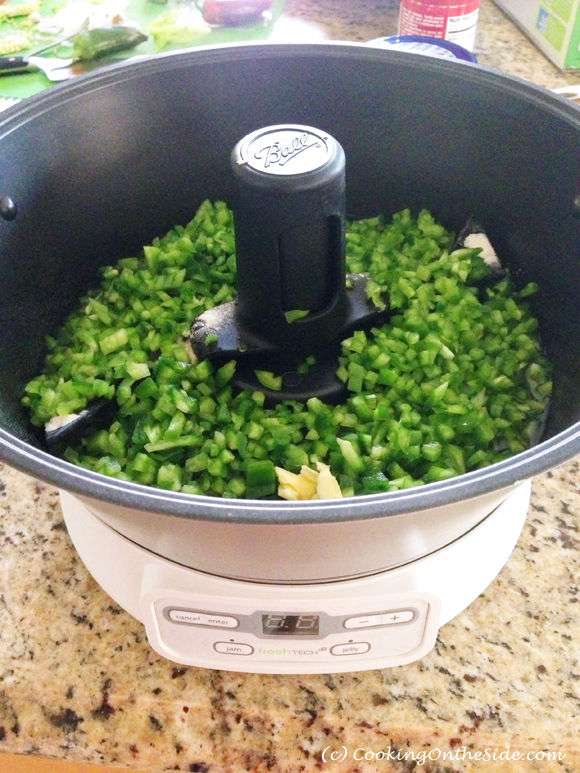 I say I'm this close to canning because Ball, the American company that's well known for its glass canning jars, sent me a slew of supplies for learning how to can. I've now got jars, labels, pectin, a rack, recipes – even their FreshTECH Automatic Jam & Jelly Maker (you can see the makings of my pepper jelly getting ready to take a slow spin in it above). So far, over the past few weeks, I've made some incredible applesauce from the Anna apples my friend Lisa picked from her trees and blueberry jam for the kids' lunches in addition to this pepper jelly. Later this month I'll be trying out fresh fig preserves!
All I'm missing now is a pot big enough to fit the canning rack. Evidently, my stockpot is an inch too narrow! So until I get around to picking up a canning pot (and carving out a spot in my kitchen cabinets to store it), we're enjoying our preserves right out of the fridge…which is actually working out just fine for now. 🙂
P.S. For my pepper jelly, I used the recipe that appeared inside the FreshTECH booklet, which gave directions for making it with the machine. In case you don't have the machine, I found a very similar recipe (below) on the Ball website that uses all the same ingredients, but with directions for making the pepper jelly on the stovetop.
Pepper Jelly
From Ball's FreshPreserving.com website
Prep time: 15 minutes | Cook time: 20 minutes | Total time: 35 minutes
Yield: 6 (8 oz) half pints
INGREDIENTS:
4 1/2 cups

finely chopped green bell pepper (about 4 large)

1/2 cup

finely chopped jalapeño pepper (about 4 small)

1 1/4 cups

cider vinegar

3 tablespoons

Ball® RealFruit® Low or No-Sugar Needed Pectin

2 cups

sugar

1 cup

honey

6

Ball® or Kerr® (8 oz) Quilted Crystal® Jelly Jars with Lids and Bands
DIRECTIONS:
Prepare boiling water canner. Wash jars, lids and bands in hot soapy water. Heat jars in simmering water until ready to use. Do not boil. Set lids and bands aside.
Combine green bell peppers, jalapeño peppers and vinegar in a large saucepan. Gradually stir in pectin. Bring mixture to a full rolling boil that cannot be stirred down over high heat, stirring constantly.
Add sugar and honey. Return mixture to a full rolling boil. Boil hard 3 minutes, stirring constantly. Remove from heat. Skim foam if necessary.
Ladle hot jelly into hot jars, leaving 1/2-inch headspace. Wipe rim and center lid on jar. Screw band on until fingertip-tight.
Process filled jars in a boiling water canner for 10 minutes, adjusting for altitude*. Remove jars and cool. Check seal after 24 hours. Lid should not flex up and down when center is pressed.
Note: When cutting or seeding hot peppers, wear rubber gloves to prevent hands from being burned.
*Increase processing time 5 minutes for 1,001 to 3,000 ft; 10 minutes for 3,001 to 6,000 ft; 15 minutes for 6,001 to 8,000 ft; 20 minutes for 8,001 to 10,000 ft.