Greek yogurt never ceases to amaze me. As you know, I sort of fell in love with it last year (I'm now daydreaming about the Key Lime Greek Yogurt Pie and Yogurt Mixed Berry Pie…). My kids and I also enjoy Greek yogurt parfaits every morning for breakfast, with a little honey, lowfat granola and pomegranate seeds on top. We seriously can't get enough of it.
Lately, I've become smitten with using Greek yogurt in place of butter, oil and sour cream to lighten up my favorite recipes. It was hard to imagine that Greek Yogurt Chocolate Chip Cookies would be able to measure up to my idea of a really good cookie, but I was so pleased that they did!
I took the Ghirardelli recipe from the back of their semisweet chocolate chips package, which calls for two sticks of butter, and swapped out one of the sticks for 1/4 cup of Greek yogurt (per the conversion chart below). They come out a little cakier than they might normally, which for many people is a good thing. Best of all, replacing that stick of butter with yogurt cut the amount of fat in the recipe by 87 grams! That translates to about 1.5 fewer grams of fat per cookie, which is pretty awesome considering you'll hardly miss it, taste-wise.
I've bookmarked this helpful little chart from the Chobani website, with so many options for using yogurt to lighten up your cooking and baking:
I can cut down on the fat and the recipe still comes out great? Count me in! Stay tuned to see what other recipe I made a little healthier with yogurt – coming soon…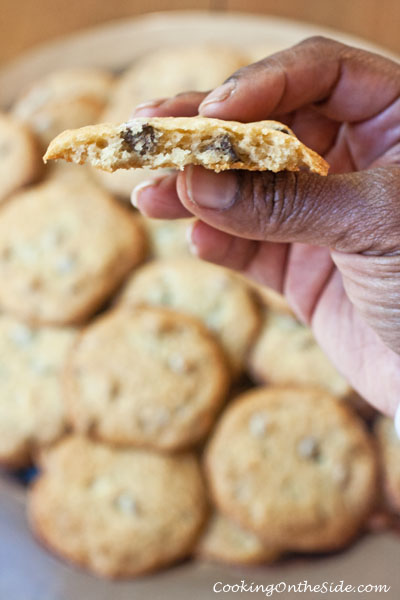 Greek Yogurt Chocolate Chip Cookies
Adapted slightly from the Chocolate Chip Cookies recipe on the Ghirardelli Semi-Sweet Chocolate Chips package
Prep time: 1 hour 15 minutes (including chilling) | Cook time: 30 minutes | Total time: 1 hour 45 minutes
Yield: About 5 dozen cookies
INGREDIENTS:
1 package (12 ounces)

semi-sweet chocolate chips

1/2 cup (1 stick)

unsalted butter, softened

1/4 cup

Greek yogurt, reduced-fat or whole

3/4 cup

sugar

3/4 cup

brown sugar, packed

2 large

eggs

2 teaspoons

vanilla

2 1/4 cups

unsifted flour

1 teaspoon

baking soda

1/2 teaspoon

salt

1 cup

walnuts or pecans, chopped (optional)
DIRECTIONS:
Stir flour with baking soda and salt; set aside. In large mixing bowl, beat butter and yogurt with sugar and brown sugar at medium speed until creamy and lightened in color. Add eggs and vanilla, one at a time. Mix on low speed until incorporated. Gradually blend dry mixture into creamed mixture. Stir in nuts (if using) and chocolate chips. Chill dough in the refrigerator for an hour.
Heat oven to 375ºF.
Measure out dough with a small 2-teaspoon cookie scoop onto ungreased or parchment-lined cookie sheets. Bake for 9 to 11 minutes or until golden brown.