If this dish looks vaguely familiar to you it's because I previously shared a rather similar recipe, for Honey Lemon Chicken, earlier this year. So I hesitated for a moment to post this Chicken and Rice Chile Verde. But, you know, I don't think you ever can really have too many good one-pot, one-hour chicken and rice recipes…especially when they taste as homey and comforting as these two do.
Things have been a bit sniffly around our house for the past few days (which, as many of you know, happens about every six weeks or so when you live amongst toddlers). Gone are the days when I could call in sick, keep the jammies on all day and catch up on the DVR while I waited out a cold. I've got to keep this ship (aka, my household) moving forward. So I power through it, and cook extra-comforting food.
This is definitely one of those dishes that taste even better when you reheat it after a few days. The green chile flavor has had a chance to really seep into the rice and the chicken. The rice becomes almost creamy, like a risotto. It's not a spicy dish but there is a gentle heat that runs through it. It takes just about an hour start to finish so I actually made it at lunchtime this week, but you can be sure it's already been added to my weeknight dinner rotation.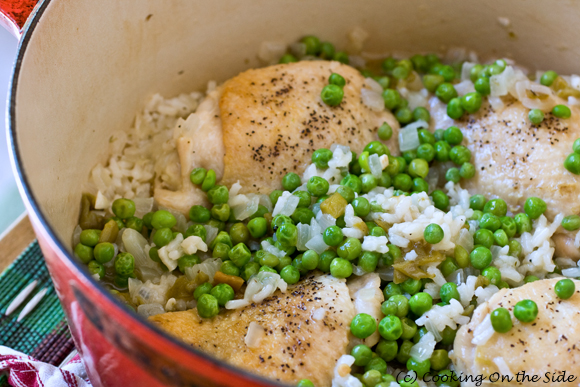 Chicken and Rice Chile Verde
Adapted slightly from the Chicken & Rice Chile Verde recipe on the back of the Botan Calrose Rice package
Prep time: 10 minutes | Cook time: 50 minutes | Total time: 1 hour
Yield: 4 servings
INGREDIENTS:
1-1/4 cup

chicken broth

4

large chicken thighs (about 1-1/2 lb), skin and excess fat removed*

1

medium onion, chopped (about 1 cup)

1 clove

garlic, minced or pressed

3/4 cup

calrose rice**

1 (4 oz) can

diced green chiles

1/2 teaspoon

oregano, crumbled

1 cup

frozen peas, thawed

1/4 cup

grated Monterey Jack cheese
DIRECTIONS:
Heat a large frying pan over high heat. Lightly coat the inside of the pan with cooking spray. Add chicken in a single layer. Cook 3 to 4 minutes on each side, or until browned. Remove from pan.
Add onion and garlic to the same pan; sauté 30 seconds. Mix in rice, chiles, oregano and chicken broth. Arrange the chicken, in a single layer, over the top. Bring the mixture to a boil. Reduce the heat to low. Cover and simmer 25 minutes.
Sprinkle the peas over the chicken. Cover and cook 5 minutes longer, or until the liquid is absorbed. Remove from heat; let stand covered 10 minutes. Serve with cheese.
* I opted to keep the skin on the thighs.
** Botan Calrose rice is a short-grain sushi style rice. If you substitute for another type of rice you may need to adjust the amount of liquid accordingly.