Oh, hello there. Look who just hopped in.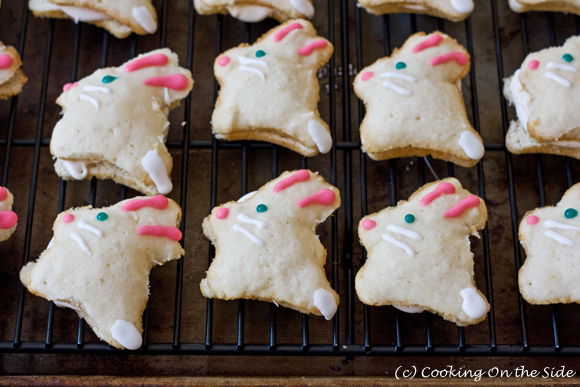 Something happened as I was making these Bunny Whoopie Pies. I was supposed to end up with 12 little bunnies but somehow, true to their reputation…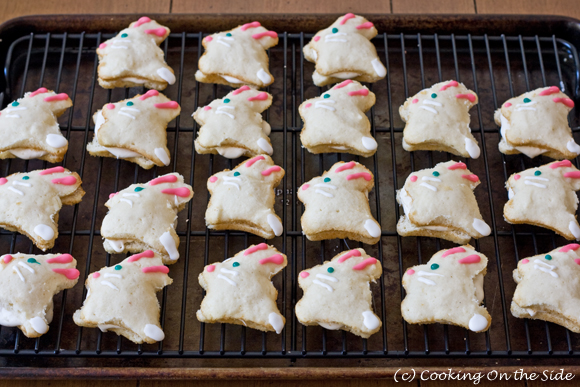 …they multiplied! And quickly took over the house.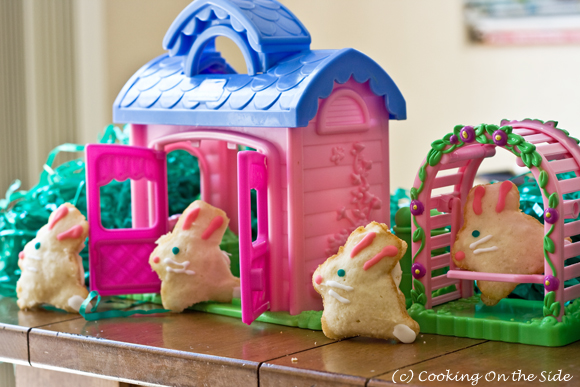 Here's the thing. The bunny-shaped wells in the Wilton pan I bought all face the same direction. When you go to position them back to-back (flat side to flat side) the two bunnies end up facing in opposite directions. So I just took my paring knife and halved each bunny lengthwise so they would all match up. I did end up with twice as many bunnies as I'd originally anticipated (yet still had extra marshmallow filling, go figure) but at least I could now sandwich them. Plus, I think they came out pretty cute.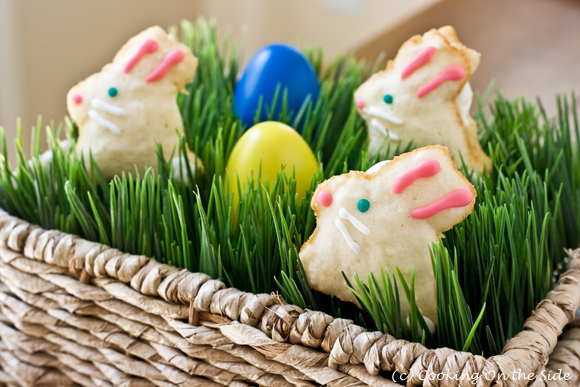 Bunny Whoopie Pies
Adapted from the Raspberry Whoopie Pies recipe on the Wilton Bunny Whoopie Pie Pan package.
Prep time: 1 hr 15 min (including cooling) | Cook time: 25 min | Total time: 1 hr 40 min (plus decorating)
Yield: 24 whoopie pies
INGREDIENTS:
Whoopie Pies:
1/2 cup (1 stick)

unsalted butter, softened

1 cup

granulated sugar

1

egg

1/2 teaspoon

vanilla extract

2 1/4 cups

cake flour, sifted

1 1/2 teaspoons

baking powder

1/4 teaspoon

salt

2/3 cup

milk

Whoopie Pie Filling (see below)

Royal icing or prepared cookie icing for decoration
Whoopie Pie Filling:
6 tablespoons

unsalted butter, softened

1 1/2 cups

confectioners' sugar

1/8 teaspoon

salt

1 jar

marshmallow creme (about 7 oz)

1 teaspoon

vanilla extract
DIRECTIONS:
Whoopie Pies:
Preheat the oven to 325°F. Lightly spray Bunny Whoopie Pie Pan with nonstick cooking spray (I use Pam for Baking).
In a large bowl, beat butter and sugar with electric mixer on medium speed until light and fluffy, about 3 minutes. Add egg and vanilla; beat until well combined.
In another bowl, sift together the flour, baking powder and salt. Add half the dry ingredients into the butter mixture and mix on low speed. When dry ingredients are almost incorporated, stop the mixer and add the milk. Continue to mix on low speed until all ingredients are almost incorporated. Stop the mixer and add the remaining dry ingredients. Mix on low until just combined. Spoon 2 tablespoons of batter into each cavity; spread batter to the edges. Cavity should be about 2/3 full.
Bake for 11-13 minutes or until the top of the cake springs back when touched. Allow the cakes to cool in pan 8 minutes. Remove from pan and cool completely. Repeat for each batch.
To assemble pies, carefully split each cake lengthwise to create top and bottom halves. Spread Whoopie Pie Filling on each of the bottom halves. Close each whoopie pie with the top cake halves. Decorate with royal icing or prepared cookie icing.
Whoopie Pie Filling:
In a large bowl, beat butter with electric mixer until creamy. Add sugar and salt to the butter; mix well. Add marshmallow creme and vanilla; blend well. Use immediately to fill whoopie pies or refrigerate covered up to 1 week. Bring back to room temperature and lightly beat before using.