The panicked look on my face probably startled my husband into thinking something dire had taken place.
"Where's the ricotta???"
Truthfully, for the first few seconds after I realized the stuffed shells recipe I was following seemed to have omitted the ricotta…well, I did have a minor momentary freakout. It shouldn't have been a real showstopper, but when I'm racing against the sun to prepare and photograph a meal before putting it on the dinner table, the last thing I want to find out is that the recipe I'm following has flaws. Sometimes when you find one error in a recipe, others aren't far behind.
I scanned over the recipe again and again, but there was no mention of ricotta cheese at all. Impossible! Stuffed shells are made with ricotta, or at least the kind I like to eat do. I wondered if I had mistakenly chosen a sausage-and-spinach-only version, but the photo on the side of the box where I found the recipe depicted shells just brimming with spinach-flecked ricotta. It was definitely supposed to be in there.
Fortunately, this recipe error seemed to be an isolated incident. Hoping I wouldn't wind up with way too much filling I went ahead and added in a pound of ricotta anyway. I just couldn't bear to make stuffed shells without it. They turned out just right – that classic, homey comfort dish I've known and loved for years, made a little healthier with a bag of baby spinach mixed in. And ricotta. Problem averted.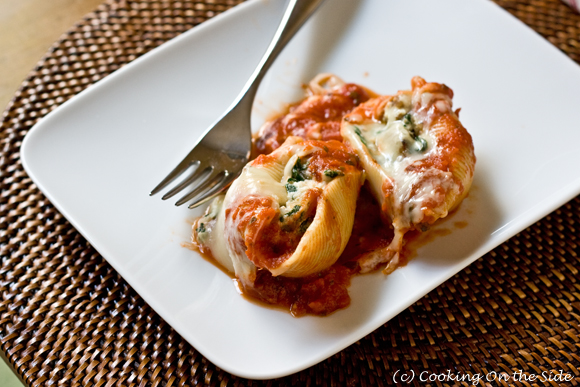 Sausage & Spinach Stuffed Shells
Adapted from the Stuffed Jumbo Shells recipe on the back of the Barilla Jumbo Shells package.
Prep time: 35 min | Cook time: 30 min | Total time: 1 hr 5 min
INGREDIENTS:
12-ounce package

jumbo shell pasta

1 pound

Italian sausage

2 tablespoons

extra virgin olive oil

6 ounces

baby spinach, chopped

1 cup

finely chopped onion

1 clove

garlic, minced

1 teaspoon

salt

1/4 teaspoon

freshly ground black pepper

1/8 teaspoon

ground nutmeg

1

egg

15-ounce package

part-skim ricotta cheese

1/4 cup

freshly grated Parmigiano cheese

3 cups

marinara sauce

1 cup

shredded mozzarella cheese
DIRECTIONS:
Preheat the oven to 350°F.
Cook jumbo shells according to package directions; drain, reserving 1/3 cup of the pasta cooking water.
Meanwhile, cook Italian sausage in a large skillet over medium-high heat 7-10 minutes or until no longer pink, stirring occasionally. Drain grease.
Add oil, spinach, onion, garlic, reserved pasta water; continue cooking 10 minutes, stirring occasionally. Remove from heat.
Add seasonings and blend well. Let mixture cool.
Combine egg, ricotta and Parmigiano cheese in a large bowl. Mix in sausage mixture.
Pour 1 cup of the marinara sauce into a 13×9 inch baking dish.
Fill jumbo shells with meat and cheese mixture; place in dish. Pour remaining sauce over shells; sprinkle mozzarella cheese over the top, cover with foil. (If you have more filled shells than will fit in your baking dish, you can always freeze the extra).
Bake for 30 minutes or until thoroughly heated.