I stepped foot inside a gym this week for the first time in nearly four years.
It was a little strange to be back. A lot has changed in the gym world. There are things like "zumba", "barre method" and "Lululemon" that I'd only really known about casually via updates in my Facebook news feed. And, of course, the child care area that I used to breeze past on my way in is now my very first destination.
I'm not starting a diet or anything. The only real goal I have is for general health. "Everything in moderation" has long been my mantra. Lately I've been thinking that "everything" probably ought to include exercise as well.
Let's be honest, I want to be able to continue to enjoy treats like Flourless Chocolate Cake.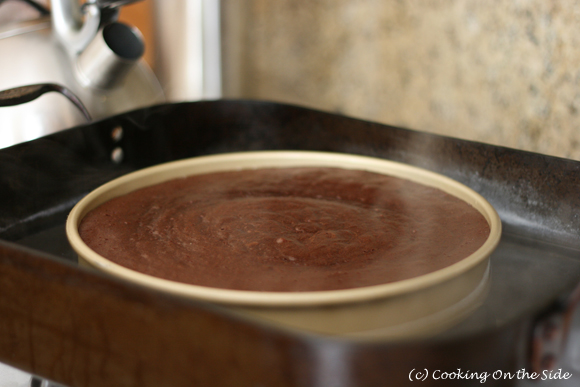 This cake emerged from the oven puffed up high like a soufflé, even a little beyond my cake pan for a few moments. Then as it cooled it settled down into a rich, fudgy, dense chocolate round. I would strongly recommend using a springform pan if you have one. It took an agonizing 5 minutes of heating, shaking, pounding and eventually prying with a butter knife for me to remove the cake from my standard cake pan, despite a generous coating of baking spray. The good news is it came out intact…and amazing.
Since it doesn't contain any leavening ingredients many people who celebrate Passover like to serve a flourless chocolate cake. But, by all means, enjoy this decadent dessert whenever the mood strikes. Just be sure to hit the gym every now and again. 🙂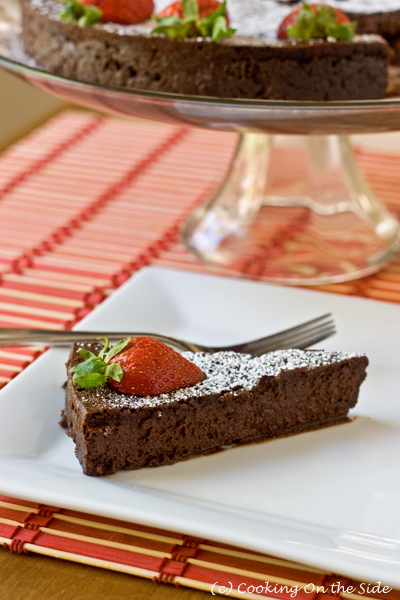 Flourless Chocolate Cake
Adapted from the Flourless Chocolate Cake recipe inside the Plugra European-Style Butter package
Prep time: 30 min | Cook time: 40 min | Total time: 1 hr 10 min (plus cooling)
Yield: 12-14 servings
INGREDIENTS:
1/2 cup

water

1 1/2 cups

sugar

6 ounces

semi-sweet chocolate, chopped

7 ounces

unsweetened chocolate, chopped

1 cup plus 2 tablespoons

unsalted butter, room temperature

6

eggs

Powdered, for garnish

Fresh strawberries, for garnish
DIRECTIONS:
Preheat the oven to 350°F.
Grease a 10-inch round cake pan (a springform pan is easiest).
Bring water and 1 cup of the sugar to a boil. Remove from heat and add both chocolates. Stir until chocolate is melted. Add butter and stir until melted.
Heat a kettle of water (to use for a water bath) on the stove.
Combine remaining half cup of sugar and eggs in a mixer. Beat until light and fluffy. Gently fold chocolate mix into egg mixture.
Pour the batter into the cake pan. Place the cake pan into a larger, deep baking pan and set the larger pan inside the oven. Pour the hot water from your kettle into the larger pan, filling about halfway up the side to create a water bath. Bake in the water bath for 40 minutes.
Remove cake from the water bath and cool to room temperature. Heat on top of stove for 30 seconds and then unmold onto a cake plate. Chill the cake for at least an hour.
Garnish chilled cake with powdered sugar and fresh strawberries.
Optional: If you'd like to garnish with whipped cream as well, whip 1 cup heavy cream and 1 tablespoon confectioners' sugar together until thick.