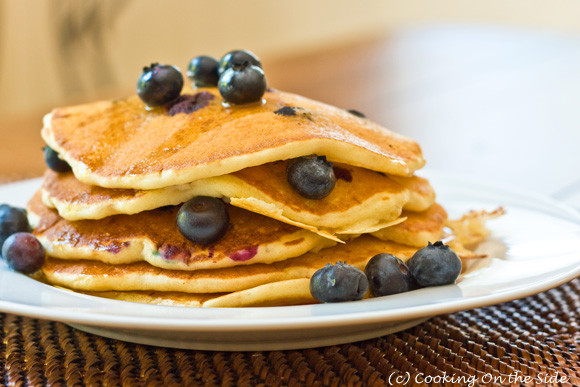 Is there anything better than sleeping in on a Saturday morning and waking up to a stack of fluffy, buttermilk pancakes, fresh off of the griddle, dripping with maple syrup and butter? We all owe a huge debt of gratitude to whomever invented cake we can have for breakfast.
Furthermore, I'm also feeling a certain fondness toward the person who invented powdered buttermilk. I used it for the first time to make these Blueberry Buttermilk Pancakes and I was so pleased with how light and flavorful they came out. I always feel so guilty when I have to pour out half a carton of real buttermilk because I can't use it all. The powdered kind lasts much longer so you can use as much or as little as you need without waste. It's definitely going to be a refrigerator staple of mine from now on.
With plump, juicy summer blueberries appearing in the markets, I couldn't help but add them into the mix. Surely the antioxidants count toward making these "healthy", right? 🙂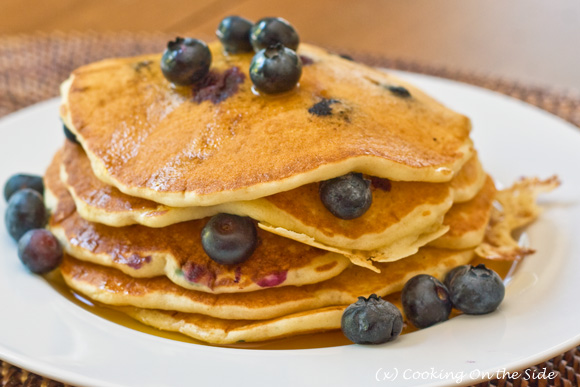 Blueberry Buttermilk Pancakes
Adapted from the SACO Cultured Buttermilk Blend package
Makes 10 4-inch pancakes
INGREDIENTS:
4 tablespoons SACO Buttermilk Blend *
1 cup all-purpose flour
1 tablespoon sugar
1 teaspoon baking powder
1/2 teaspoon baking soda
1/4 teaspoon salt
1 pint blueberries, rinsed and drained
1 egg, beaten
1 cup water *
2 tablespoons vegetable oil
* You can substitute 1 cup of real buttermilk for the buttermilk blend and water in this recipe.
DIRECTIONS:
Sift dry ingredients together into a mixing bowl. Mix in blueberries. Add beaten egg, water and oil. Combine just until batter is smooth. Do not overbeat!
Drop from a spoon onto a hot, greased griddle and cook until top is full of tiny bubbles and the underside is brown. Turn and brown on the other side.