It's a delicacy that little kids have tentatively tasted with curious delight for decades. Its bold, bright colors capture their attention, its soft, malleable mushiness keeps them entertained for hours. Grind some into the carpet and you've got a permanent art installation. Yes, Play-Doh is a rite of childhood.
At 1-1/2 years old, my daughter's recent first encounter with Play-Doh went just about how I thought it would: poke poke with chubby little fingers…mush…poke…tear…eat large glob while mommy is looking away…smash on the ground…step in it…grind into the soles of cute white sandals.
Embracing all of this mushy messiness as best I can for a first-time mom (I just keep replenishing my OxyClean), I was delighted to find a recipe for "Kids Play Clay" on the side of a Clabber Girl Cornstarch canister. It calls for just four simple ingredients: salt, water, food coloring and (of course) cornstarch. An added bonus for many families these days – it's gluten-free!
Each batch yields enough for about three good-sized balls of dough which you can make whatever color you like. The consistency is just as soft and malleable as the store-bought kind and has been holding up quite well in my refrigerator for the past few days. Now we just need to gather up some little cookie cutters and other "impressionables" and we'll be all set for some good old-fashioned doughy fun!
P.S. Don't laugh at my snowman…guy…thing.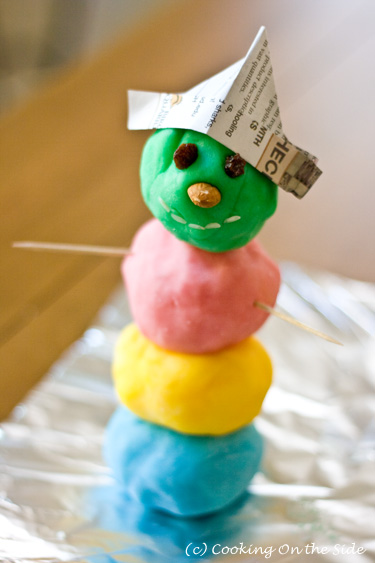 Homemade Play Dough
Adapted from the Kids Play Clay recipe on the side of the Clabber Girl Cornstarch canister
INGREDIENTS:
1 cup salt
1/3 cup water
1/2 cup cornstarch
1/4 cup cold water
Food coloring (optional)
DIRECTIONS:
In a medium saucepan, mix salt and 1/3 cup water over medium heat, stirring occasionally (about 3-4 minutes). Mixture should appear like slushy, wet snow. Remove from heat.
Add cornstarch and 1/4 cup cold water. The mixture will resemble mashed potatoes. Stir till thickens, cool, then knead on a board or countertop that has been lightly dusted wtih cornstarch. If desired, divide dough into smaller balls and add a few drops of food coloring.
Store unused play dough in the refrigerator in a sealed container with a damp sponge.