When I can bring my serving plate home empty, I take it as a sure sign that my potluck dish was a hit. And if my fellow guests even want to abscond with the serving plate itself (because it's that cool)?? Well, that's a whole new level of potluck success for me.
I brought these Bacon-Topped Deviled Eggs, from a recipe on the Land O Lakes website, to the end-of-the-year party for our preschool board. At home, I tend to be a bit of a deviled egg purist – very simple, classic recipe with nothing more than a shake of paprika on top. But for this board party I thought it would be fun to branch out a little bit, incorporating sour cream into the yolk mixture (this made them a bit paler in color, but extra light in texture) as well as scallions (I grew them in my windowsill!) and, of course, crispy crumbled bacon. Dare I say I enjoyed these even more than the original?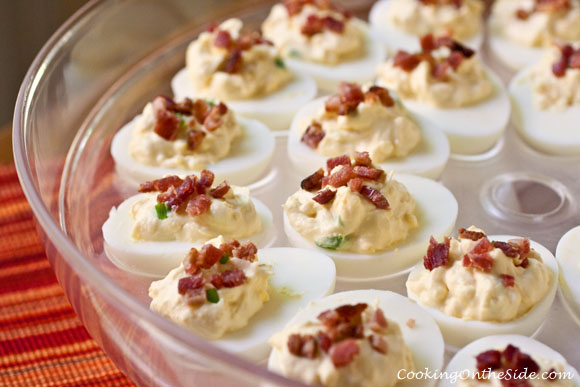 We're big deviled egg fans in our house but I usually don't consider bringing them to potlucks because they need to stay cold. Land O Lakes sent me a deviled egg server that's been ingeniously designed with an ice compartment in the base. Each egg stays nice and chilled in its own little well, no more slipping and sliding around. What a terrific idea! As part of their Bite-Sized Brunch celebration, they'd like to send one of these awesome trays to a lucky Cooking On the Side reader, as well as a mini muffin pan and two-tier server (these items, from Crate and Barrel and Williams-Sonoma, are valued at more than $100). Read on for details on how to enter! [THE GIVEAWAY IS NOW CLOSED]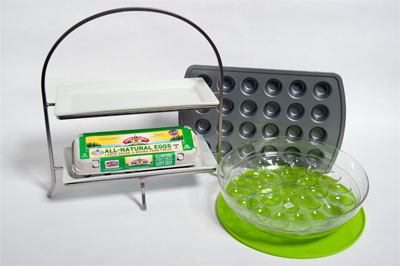 **Land O Lake Bite-Sized Brunch Giveaway!**
One winner will receive a gift package (worth more than $100) containing the following items:
Full-value coupon redeemable for any variety of LAND O LAKES® Eggs
TO ENTER: Leave a comment on this post telling us your favorite way to eat eggs. [THE GIVEAWAY IS NOW CLOSED]
The giveaway will close on Monday, May 28 at 5:00 PM PDT. I will use random.org to select one winner and I will announce the winner in this post. I will contact the winner via e-mail – if I don't receive a response within 5 days I will draw another name. My apologies to international readers, the prize can only be shipped to U.S. addresses.
You can find the Bacon-Topped Deviled Eggs recipe over at Land O Lakes.
**UPDATED 6/14/12: Congratulations to our winner – #9 Julie from Bananas for Bourbon!
I received a premium gift package from MoArk, including an On-Ice Deviled Eggs Server, Mini Muffin Tin, Two-Tier Server with Plates and a full-value coupon redeemable for any variety of LAND O LAKES® Eggs. All opinions, as always, are my own.