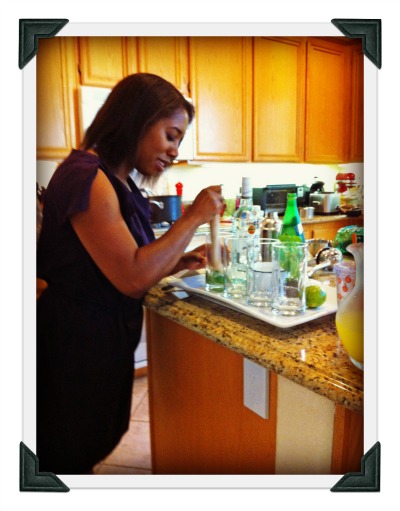 The mambo music was turned up, the mojitos were muddled – we were all set for a festive evening when our dear friends Karin and Tony and their two little kids arrived for our Cuban-themed dinner party this past weekend.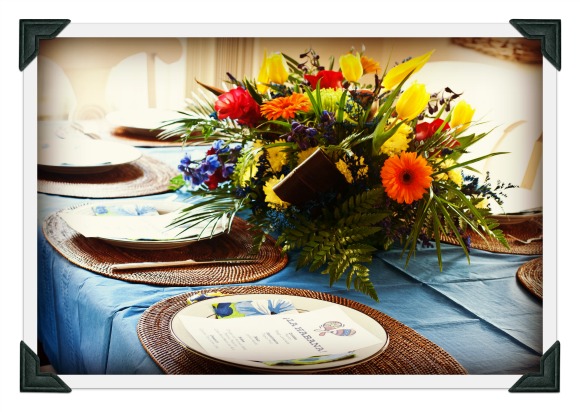 When I visited Cuba about ten years ago on a business school study trip, I was absolutely struck by the vibrancy of the culture – the people, the music, the food. It was my first inspiration when McCormick Gourmet, in conjunction with their Dinner Party Chain promotion, challenged me to come up with a creative, gourmet dinner party incorporating their spices. I was excited to relive fond memories of "La Habana" with a fun, family friendly, Latin-tropical spread for our friends.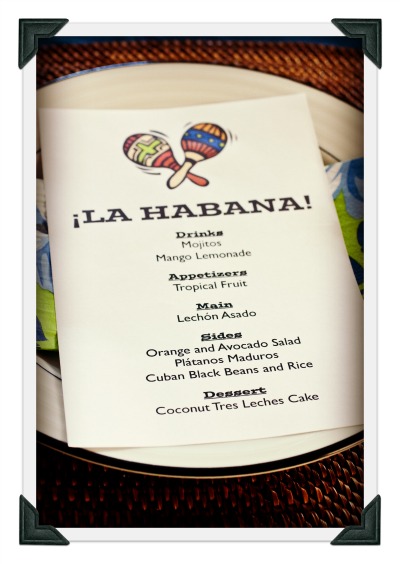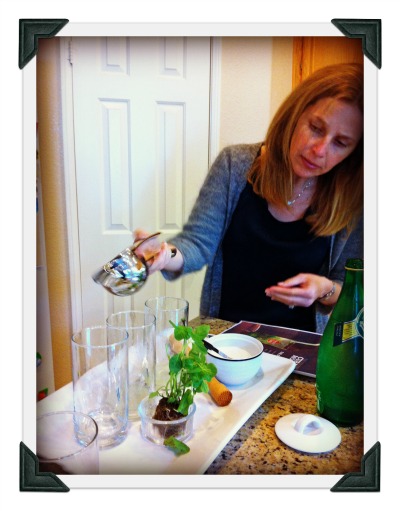 We couldn't start a Cuban party without minty Mojitos! I put Karin to work with the mixing and muddling – her drinks came out refreshingly fantastic. There are dozens of ways to make a mojito, but I preferred the original recipe from Havana Club, the brand of rum I saw everywhere in Cuba. Our kids enjoyed some freshly squeezed Mango Lemonade.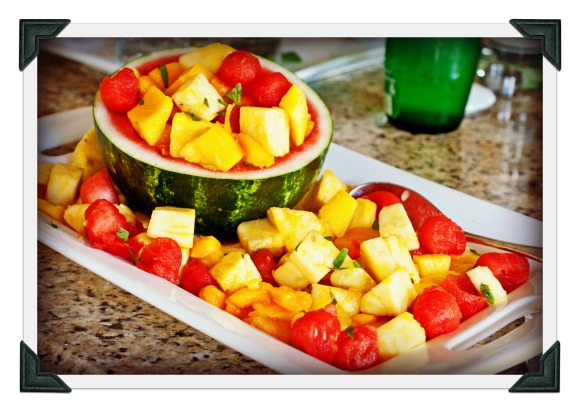 For our appetizer, I started things off with some perfectly ripe Tropical Fruit – pineapple, mangoes, papayas and watermelon (technically not as "Cuban" as the other three, but still tropical and a pretty red pop of color). My original plan was to do skewers, but at the last minute I decided that four kids under the age of 5 would fare better (and safer) with their fruit in bowls.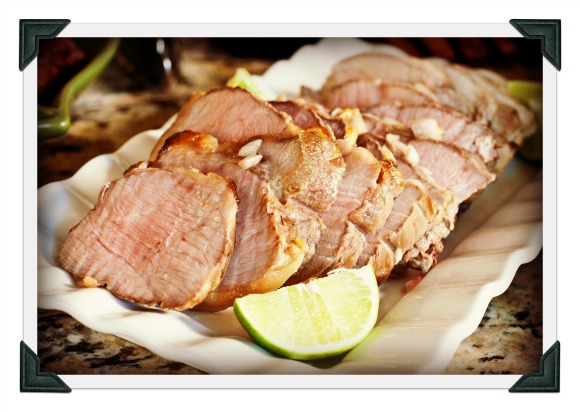 When you find a marinated pork recipe that calls for 15 cloves of garlic, a cup each of lemon and lime juice and two cups of orange juice (my triceps are still burning from all of that citrus squeezing!) in its marinade, you know you're in for some big flavor. Lechón Asado (aka Roast Pork) is a classic Cuban dish. My trusty meat thermometer made sure the meat was cooked just right – nice and juicy, not overdone. I was hoping to save some of the leftovers for Cuban sandwiches, but those extras didn't last very long!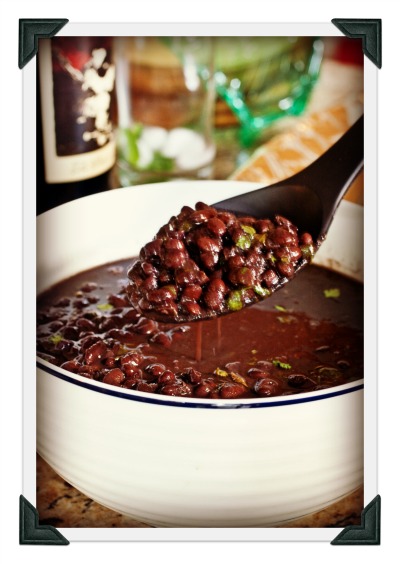 Black beans are, without a doubt, a Cuban staple. I'm pretty sure we ate black beans and rice with every dinner when I visited. Most often we had moros y cristianos, which is black beans and rice that are cooked together. However, in the past I've run into a little trouble with getting that dish just right (gotta know your strengths and weaknesses!) so this time around I opted to serve the beans and rice separately.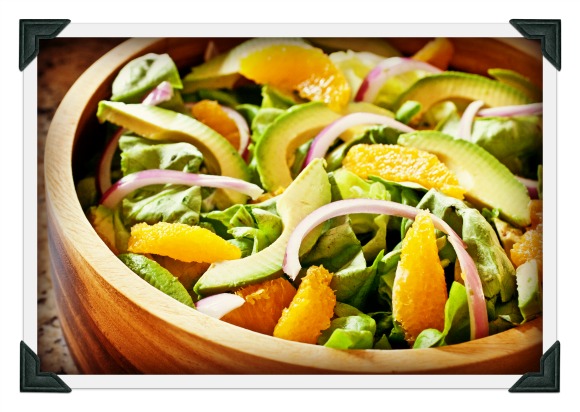 This colorful, fresh Orange Avocado Salad recipe came from McCormick's website – a simple assembly of tender Bibb lettuce, creamy avocado, orange sections and sliced red onion, tossed in an orange vinaigrette (seasoned with McCormick's Cuban Seasoning). The two little boys at our table (ages 2 and 3-1/2) turned out to be some serious avocado fans!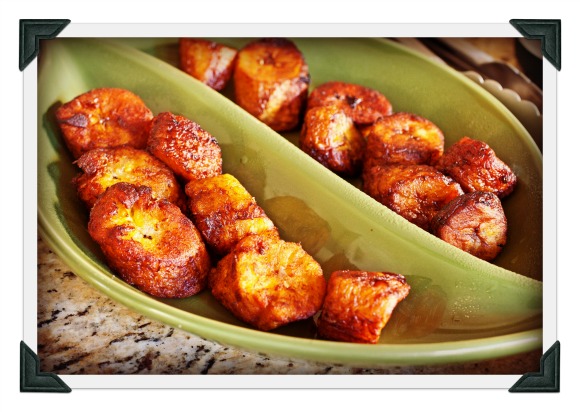 Out of all the dishes I was probably most excited about making the Plátanos Maduros (aka Fried Sweet Plantains). When the plantains are perfectly overripe these things are so incredibly sweet, with a lightly crisp crust on the outside. I just love them. I followed the recipe from Food & Wine, which simply calls for frying very ripe plantains in hot oil. That's all!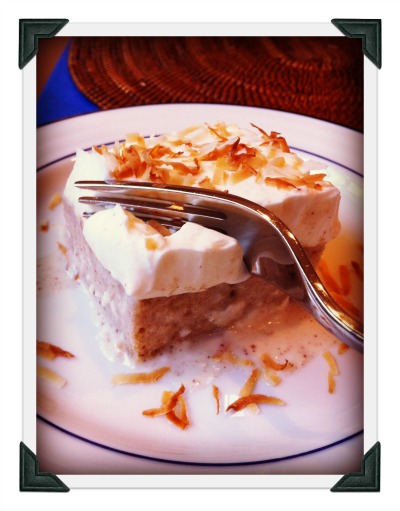 And finally, dessert – Coconut Tres Leches Cake. It took me having to bake this cake THREE TIMES the night before the party before I had it right. The first time I followed the recipe on the McCormick website, which calls for folding in beaten egg whites – a baking skill that I have yet to master despite many tries over the years. It didn't work out. I decided to give Alton Brown's Tres Leches Cake recipe a try, as his recipe used baking powder for leavening rather than egg whites. I brought over the pumpkin pie spice and coconut milk from the McCormick recipe and added my own toasted coconut touch on top, because I still wanted those great flavors. The cake was in the oven when I opened the video that accompanied Alton's recipe. In the first ten seconds of the video I realized a big mistake I'd made – he called for 4 ounces of butter, but I read it as 4 tablespoons. That explained my rubbery cake. So I made the cake one final time and fortunately the third time was the charm – sweet, super-moist with the warm flavors of the pumpkin pie spice.
* * *
It was such a treat to have the chance to relax with good friends over good food and even better mojitos. I wish I'd remembered to take more photos of all of us enjoying ourselves, but I guess that's what happens when you're having fun. 🙂
If you're interested in winning your own Ultimate Dinner Party Package worth over $1,000, McCormick is giving one away every week through the end of July on their Facebook page!
McCormick Gourmet provided me with a dinner party kit, including products and gift cards, to use in creating this post. All of my opinions are, as always, my own.