One of my greatest joys of motherhood is having the chance to view the world through the wide eyes of my two little kids. Everything…everything is so much more fun and exciting and vibrant to them. Especially something as simple as strawberry picking.
I've driven past the family-owned U-Pick strawberry fields in Carlsbad for years, but I'll be honest – the thought of my little kids (particularly my 3-year old little boy) streaming down the rows of ripe red berries gave me a little pause. But this year, I mustered up the courage to bring the kids strawberry picking. You know what? It was actually kind of a breeze (and we got an amazing Strawberry Banana Bread out of it!).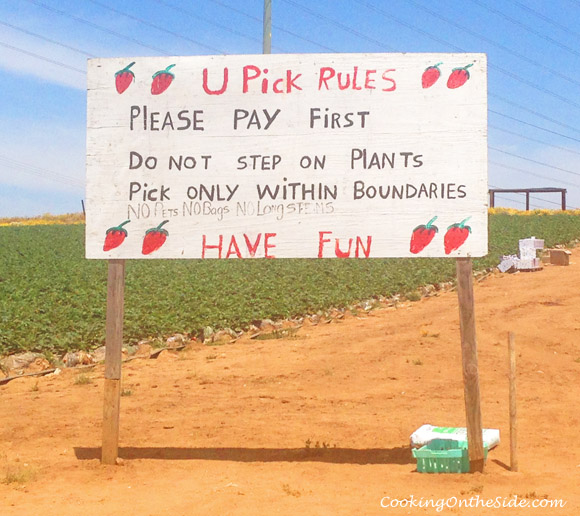 I was anticipating berry-covered clothes, berry-covered children, bees, mayhem…we actually had none of that. In fact, my kids didn't pop one single berry into their mouth until we returned home! It turns out, they enjoy a good hunt even more than a good snack (especially just after they've had lunch).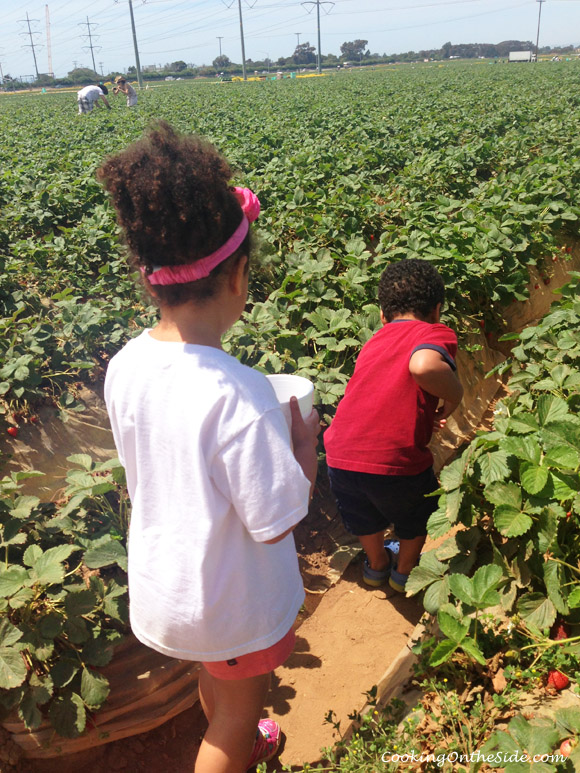 Or maybe things went so smoothly because we were at the fields for all of 10 minutes. That's all the time it took to fill our bucket – shortest outing in history! My little kids would have loved to comb through the rows for a lot longer, but at $10 a bucket (!!) I thought it would be best to head on home to partake of our strawberry loot.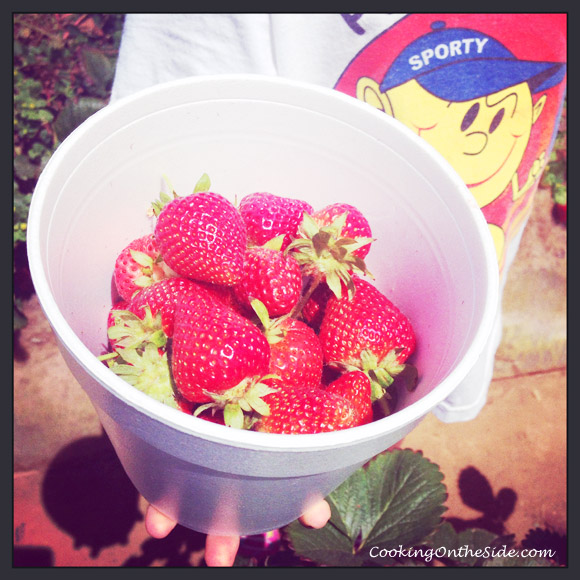 On the drive home the kids and I tossed around ideas for what we could make with the strawberries. "Strawberry cake!" "Strawberry lemonade!" "Strawberry…STRAWBERRIES!!" We really couldn't go wrong with whatever we chose – as long as it had strawberries, we were gonna love it.
I remembered an incredible banana bread recipe I recently tried, from a recipe on the Scharffen Berger website. The original featured, of course, chocolate but I thought it would also be the perfect base for a Strawberry Banana Bread. Replacing the lemon juice in the recipe with pureed strawberries still gave the recipe the benefit of acidity (helpful for leavening and the light texture) as well as a hint of berry flavor. I also mixed in chopped fresh strawberries and decorated the top with strawberry slices (I love their natural heart-shape :-)). It was all I could do to keep little mitts off of this loaf so I could snap at least a few photos to share. 🙂
Happy Mother's Day!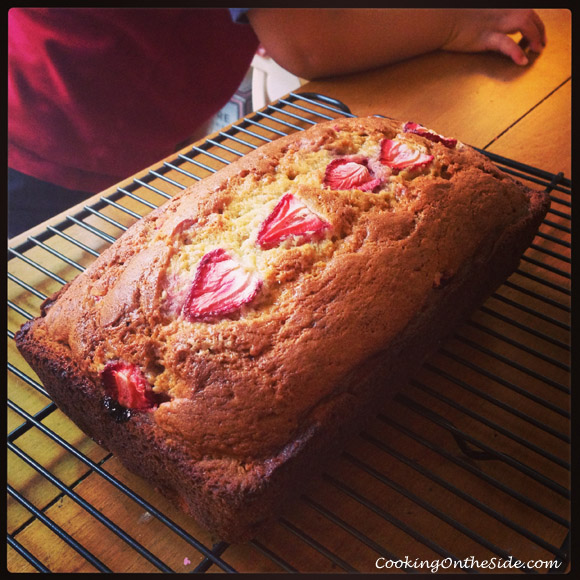 Strawberry Banana Bread
Adapted slightly from the Banana Nibby Bread recipe on the Scharffen Berger website
Prep time: 20 minutes | Cook time: 1 hour | Total time: 1 hour 20 minutes
Yield: 1 loaf
INGREDIENTS:
2 cups

all-purpose flour

1 teaspoon

baking soda

1/2 teaspoon

salt

1/2 cup

unsalted butter (1 stick)

1 cup

granulated sugar

2

eggs

1 cup

mashed very ripe bananas, about 2 to 3 depending on size

1 cup

ripe strawberries, stems discarded, divided

1/4 cup

milk

Additional sliced strawberries for decoration, optional
DIRECTIONS:
Preheat oven to 350°F.
Sift together the flour, baking soda and salt. Cream the butter in the bowl of an electric mixer with a paddle attachment until it is light in color. Add the granulated sugar and beat until light and fluffy. Add the eggs, one at a time. Next add the bananas and blend thoroughly.
Puree 1/2 cup of the strawberries. Measure out 2 tablespoons of pureed strawberries and mix it in with the milk (save any remaining strawberry puree for another use).
Alternate the addition of dry ingredients in three parts with milk in two parts as follows: mix in one third of the flour mixture, followed by half of the milk mixture. Repeat with another third of the flour followed by the remaining milk and finally the remaining of the flour. After each addition, mix only until the ingredients are blended.
Chop the remaining 1/2 cup of strawberries and fold them into the batter. Pour into the prepared loaf pan. If desired, arrange sliced strawberries on top for decoration.
Bake for 1 hour or until the bread springs back when lightly touched in the middle.
Cool the loaf in the pan on a rack for 10 to 15 minutes. Unmold and cool the loaf on the rack.