This Rocky Road Brownie Pudding Pie is one of those recipes that separates the serious rich chocolate dessert fans from the rest. To take it on, you have to be willing to bake a pan of brownies ahead of time so that you have one bar to crumble into the pie. It requires you to crush nine dollars' worth of chocolate chip shortbread cookies (thanks to Walker's Shortbread for providing me with the cookies to create this post) to form the crust. You'll need to make a from-scratch chocolate pudding, toast walnuts and whip fresh cream – nothing especially difficult, but there's a time investment.
It is worth it.
I loved this pie. Everyone in my house did. It's as amazing as "Rocky Road Brownie Pudding Pie" sounds.
There is the tiniest bit of salt in the shortbread cookie crust but it's enough to really wake up the chocolate in this pie. Folding whipped cream in with the chocolate pudding gives it a light, mousse-like texture. Marshmallows and toasted walnuts complete the "rocky road" profile – like a grown-up version of the ice cream from your childhood.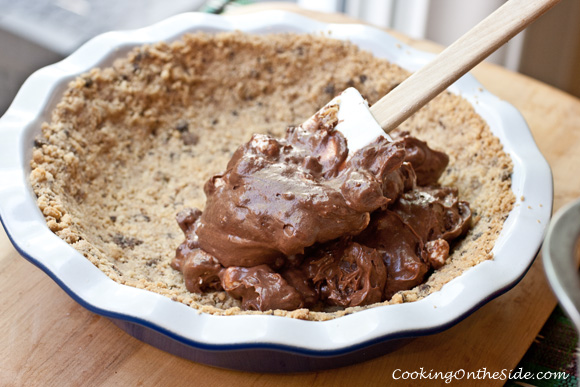 It was a little surprising to discover that this recipe, found on the Walker's website, was developed by Emeril Lagasse – a chef known more for his spicy savory dishes than decadent chocolate desserts. There's no "essence" in this pie (if you like a little spice in your chocolate pie definitely check out the Chocolate Cream Pie with Cinnamon and Ancho Chile recipe I posted last year) but I swear I heard myself utter the words "aw yeah, babe" as I tried my first bite. 🙂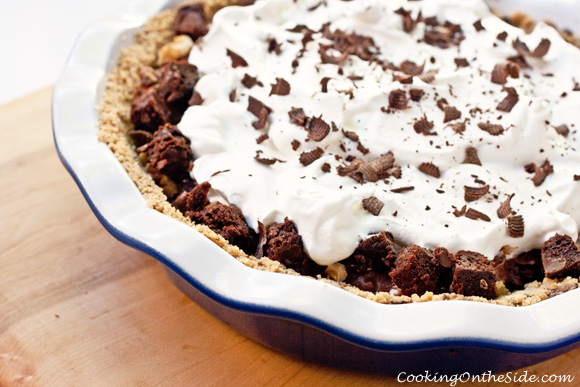 You can find the recipe for this Rocky Road Brownie Pudding Pie on the Walker's Shortbread website.