Despite being almost two years old, my daughter still prefers her sweet potatoes in the form of baby food purées with nothing else added. I suspect this has as much to do with the appeal of the natural sweet potato flavor as it does with the entertainment value of practicing the transfer of bright-orange mush from jar to mouth with her new spoon-wielding skills. If you've ever tried sweet potatoes just on their own you know they're naturally pretty sweet. But if you've ever tasted streusel topping you also know that it pretty much makes anything even better.
I'm categorizing this recipe under "Side Dishes" but, like many Thanksgiving sweet potato dishes, it nearly qualifies as dessert. The sweet potatoes are roasted with brown sugar, dried cranberries, orange juice, vanilla and spices but it's the cinnamon pecan streusel topping that really pushes the dish into dessert-like territory. It's almost like a sweet potato crisp…which, it turns out, is really good!
That said, I think I'll have trouble convincing the folks at my dinner table to accept anything besides pie as dessert on Thanksgiving, so a side dish this is.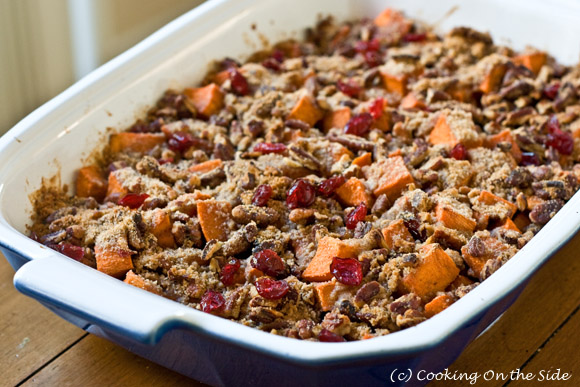 Roasted Sweet Potatoes with Cinnamon Pecan Crunch
From a McCormick holiday recipe pamphlet
Makes 8 servings
INGREDIENTS:
3/4 cup firmly packed brown sugar, divided
2 tablespoons orange juice
2 teaspoons pure vanilla extract
1 1/2 teaspoon ground cinnamon, divided
1 1/2 teaspoon ground ginger, divided
1/2 teaspoon salt
3 lbs. sweet potatoes, peeled and cut into 1-inch chunks
1 cup dried cranberries
6 tablespoons butter, cut up, divided
1/2 cup flour
1 cup chopped pecans
DIRECTIONS:
Mix 1/4 cup of the brown sugar, orange juice, vanilla, 1/2 teaspoon each of the cinnamon and ginger, and salt in a large bowl. Add sweet potatoes; toss to coat well. Spoon into a 13×9-inch baking dish. Sprinkle evenly with cranberries. Dot with 2 tablespoons of the butter. Cover with foil. Bake in preheated 400°F oven for 30 minutes.
Meanwhile, mix flour, remaining 1/2 cup brown sugar and remaining 1 teaspoon each cinnamon and ginger in a small bowl. Cut in remaining 4 tablespoons butter with a fork until coarse crumbs form. Stir in pecans. Remove sweet potatoes from oven and stir gently. Sprinkle evenly with pecan topping.
Bake, uncovered, 25 to 30 minutes longer or until sweet potatoes are tender and topping is lightly browned.