Whew! Where has this summer gone? This has to have been the busiest summer ever on record for me. Here it is, the middle of August, and I'm just now starting to slow things down and relax a little. Like, slightly.
So what have I been up to? I've been working pretty hard. For starters, I turned in the manuscript for my first cookbook (a panini press cookbook, along the lines of my other blog, Panini Happy, due out next year – woo hoo!). That was an enormous project, my grills were pretty much going nonstop as I approached the finish line. One upshot to having a profusion of ingredients on hand: pretty darn awesome fridge clean-out pizzas (hello chard, smoked mozzarella, homemade marinara and speck!).
Also on my plate this summer (do you like these food puns?) – cooking on television. Two live TV cooking segments and one recorded promotional demo later, I've discovered that I enjoy being in front of the camera as well as behind it. Here's my most recent demo, for the Pear Crisp recipe I'm sharing today (click the image to go to the video):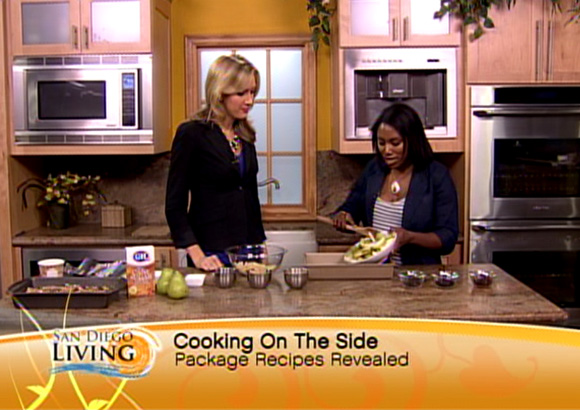 These TV segments have been far less intimidating than I'd imagined they would be. Usually it's only the host and a few camera people and crew in the room, so it's like we're just making fun videos (like the mock commercials my sisters and I used to make with our family's camcorder growing up). But ask me if I'm still comfortable one day when I'm doing this in front of a live audience – it may be a different story!
Aside from my cooking activities this summer, I judged two food competitions at the San Diego Fair (cake and chocolate – it can hardly count as "work") and there have been six children's birthday parties, a baby shower (yay) and a deposition (ugh) to attend. Yes, it's definitely time to put my feet up for a little bit and load a scoop of ice cream on top of this Pear Crisp. And, yes, booze will quite likely appear in my next post, ha ha.

Pear Crisp
Recipe from the back of the C&H Pure Cane Golden Brown Sugar package
Prep time: 15 minutes | Cook time: 25 minutes | Total time: 40 minutes
Yield: 8 servings
INGREDIENTS:
2 pounds

ripe pears (4 to 5)

2 tablespoons

lemon juice

3/4 cup

dried cherries, blueberries or raisins

6 tablespoons

butter or margarine, softened

2/3 cup

all purpose flour

2/3 cup

rolled oats

2/3 cup

brown sugar

1/2 cup

coarsely chopped pecans or walnuts

1 teaspoon

ground cinnamon

1/2 teaspoon

ground allspice or nutmeg

Vanilla ice cream, crème fraîche or whipped cream (optional)
DIRECTIONS:
Preheat oven to 375°F.
Halve and core pears; slice about 1/2 inch thick. Toss with lemon juice.
Combine pears and dried fruit in a 9×13-inch baking dish or shallow casserole of similar size.
In a medium bowl mix butter and flour with a fork or your fingers until crumbly. Mix in rolled oats, brown sugar, nuts and spices. Sprinkle mixture evenly over fruit and press down lightly.
Bake 20 to 25 minutes until pears are tender. (Check with the tip of a sharp knife or a pick.) Serve warm with vanilla ice cream, crème fraîche or whipped cream, if desired.