As I type I've got my feet up on my backyard patio ottoman and am imbibing in what I'm told was Julia Child's favorite cocktail, the Angosoda – a simple, sophisticated, scarcely-alcholic and incredibly refreshing mix of Angostura bitters, soda and lime on the rocks. Julia would have turned 100 years old today and I am proud to raise a glass in her honor.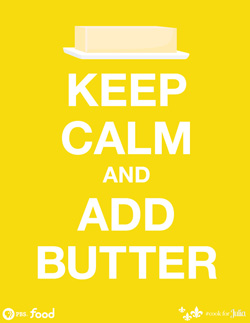 When I was a little girl watching "The French Chef" on TV, I thoroughly believed Julia Child was actually French. It was the name of the show, right? And her high-pitched warbly voice, rising and falling as she deftly walked us through each dish sounded…well…foreign to my ears. Clearly, I didn't know much about her back then. I never would have guessed that she was from California, just like I was, that she worked as a spy (kind of) or that she didn't publish her first cookbook until she was 49 years old.
I wrote a tribute to Julia Child on the PBS website last month in which I described how I've been inspired by the way she lived her life – "how she challenged herself, pursued uncharted territory and taught what she learned to others". I have yet to prepare her iconic Sole Meunière or Boeuf Bourguignon – in fact, this Angosoda is the first recipe of Julia's that I've ever made – but I nonetheless feel connected to her as someone who loves food, cooking, sharing, laughing…and butter. 🙂
Happy 100th birthday to a remarkable woman who continues to inspire cooks all over the world. Cheers!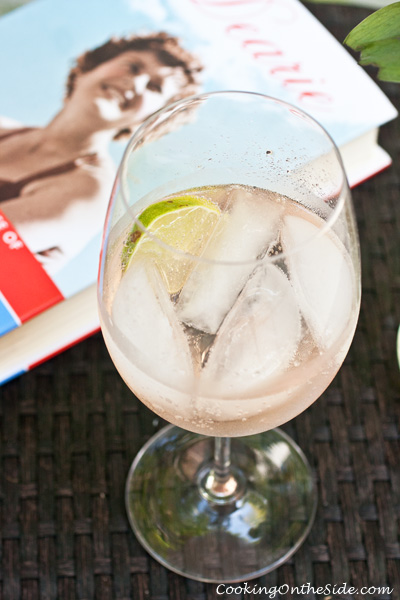 Angostura and Soda (aka Angosoda)
A recipe for Angosoda was featured in Julia Child and Company, the Chef's fifth cookbook.
Prep time: 5 minutes | Cook time: 0 minutes | Total time: 5 minutes
Yield: 1 cocktail
INGREDIENTS:
Several ice cubes

1 dash

Angostura bitters

1 slice

lime

6 ounces

sparkling water, such as Perrier
DIRECTIONS:
In a large, handsome, stemmed glass, place several cubes of ice.
Dash on a few drops of Angostura Bitters.
Add a slice of lime.
Fill with sparkling water.