I'll jump right to the punch line: this Mac & Cheese Stuffed Pumpkin was the best macaroni and cheese recipe I've ever made. That sounds overstated, but it's true. And the thing is…I have a feeling I'll want to say that after each recipe I try from Melt: The Art of Macaroni and Cheese.
Forgive me, I may gush a little here but it is warranted. I thought I knew mac and cheese. This cookbook showed me nuances and places and directions that I never imagined mac and cheese could go.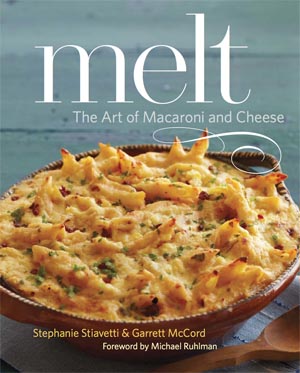 Take this recipe I'm sharing today, for example – which, in the book, is called Pumpkin Stuffed with Fontina, Italian Sausage and Macaroni. From the first glance, you know you've got something unique (my 3-year old has been bragging to everyone this week, "Mommy made mac and cheese in a pumpkin!!"). It's not just a beautiful presentation, though – it tastes amazing too. The easy melting Fontina and Gruyère cheeses, the zesty sausage and woodsy herbs…all of these ingredients incredibly well-matched for the flesh of the sweet sugar pumpkin that contains them.
My friends Stephanie Stiavetti (of The Culinary Life) and Garrett McCord (of Vanilla Garlic) not only know their cheese pairings inside and out, but they showcase them superbly with a deep respect for the ingredients. And the recipes go way beyond just casseroles. It's all about pairing pasta and amazing cheese, in every delicious way possible. I keep flipping back to the Chicken Breast Stuffed with Leonora Goat Cheese, Star Pasta and Crushed Gingersnaps recipe as well as the sweet section. Yes, there is even dessert-worthy macaroni and cheese in there. The Fromage Blanc, Chevre, Peach and Ghost Pepper Cannelloni is such a dazzling concept!
Without question, this is a book for cheese lovers. While I wasn't familiar many of the cheeses mentioned, Stephanie and Garrett confidently guide us through what makes each cheese special and the right choice for the dish. Melt is a true celebration of macaroni and cheese – a celebration I highly recommend joining!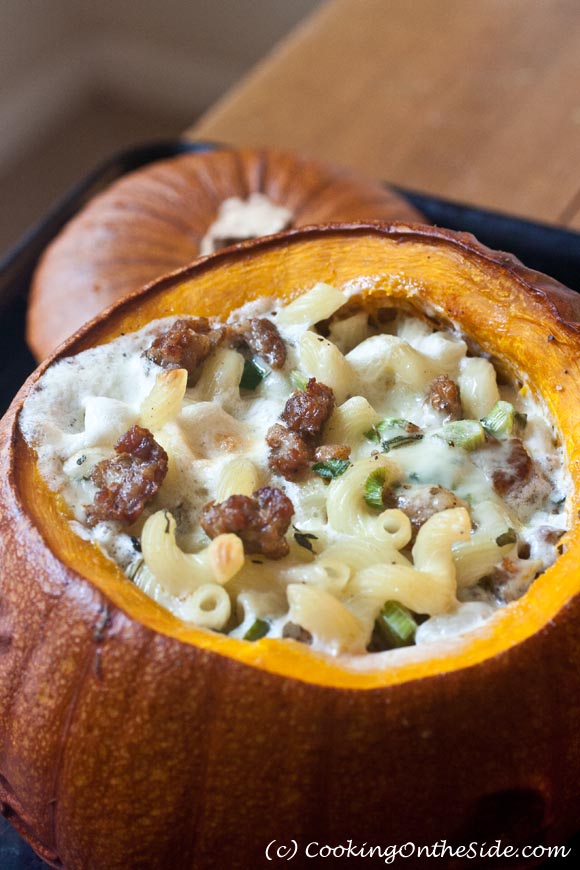 Mac & Cheese Stuffed Pumpkin
Prep time: 20 minutes | Cook time: 1 hour 45 minutes | Total time: 2 hours
Yield: 4 servings
INGREDIENTS:
1

sugar pumpkin, or other sweet variety (not a carving pumpkin), about 5 pounds

Sea salt

Freshly ground black pepper

1 tablespoon

olive oil

1/4 pound

mild Italian pork sausage

4 ounces

elbow macaroni

5 ounces

Fontina, cut into 1/4-inch cubes

2 ounces

Gruyère, cut into 1/4-inch cubes

3

scallions, diced

1 teaspoon

chopped fresh rosemary

1 teaspoon

chopped fresh thyme

1 teaspoon

chopped fresh sage

1 cup

heavy cream
DIRECTIONS:
Preheat the oven to 350°F. Cut a circle from the top of the pumpkin at a 45-degree angle, the way you would cut open a pumpkin to make a jack-o'-lantern, and set aside. Scoop out the seeds and strings as best you can. Generously salt and pepper the inside of the pumpkin, pop the top back on it, place it on a rimmed baking dish (since the pumpkin may leak or weep a bit), and bake for 45 minutes.
Meanwhile, heat the olive oil in a saute pan over medium heat. If the sausages are in their casings, remove the meat and discard the casings. Crumble the sausage meat into small chunks and cook until lightly browned. Remove the sausage from the pan with a slotted spoon and set aside to cool. Discard the drippings, or save for gravy or what have you.
Also while the pumpkin bakes, cook the pasta in a large pot of salted boiling water until al dente. Drain through a colander and rinse with cool water to stop the cooking process.
In a bowl, toss together the Fontina, Gruyère, sausage, pasta, scallions and herbs. Once the pumpkin is done baking, take it out of the oven and fill it with the macaroni and cheese. Pour the cream over the filling. Place the top back on the pumpkin and bake for 1 hour, taking the top off for the last 15 minutes so the cheese on top of the filling can properly brown. If the top cream still seems a bit too wobbly and liquid, give it another 10 minutes in the oven. The cream may bubble over a bit, which is fine. If the pumpkin splits while baking, as occasionally happens, be thankful you set it in a rimmed baking dish and continue to bake as normal.
Allow the pumpkin to rest for 10 minutes before serving. Be careful moving the dish, as the pumpkin may be fragile. You can serve this dish two ways: Cut it into sections and serve them, or just scoop out the insides with scrapings of the pumpkin flesh for each serving. Either way is just dandy. Salt and pepper to taste.