Now, if I'd just read the recipe all the way through before I started cooking, it wouldn't have come as such a surprise to me that this would be a Layered Chicken Enchiladas dish, rather than traditional rolled enchiladas.
But, in fact – confession time – I am terrible when it comes to reading through the recipe. I skim, I assume I know how things will turn out, and I get started. You'd think I'd have learned my lesson by now, after too many episodes of not realizing a bread recipe needed a second rise (and an additional hour in which to do it), or discovering the existence of a sub-recipe that needed to be prepared ahead of time. Or, as in the case of today's recipe, finding out that I'm making a completely different dish than I thought I was.
Ok, not completely different. All of the familiar elements of chicken enchiladas are there – chicken, cheese, tomatoes, onions, tortillas. But instead of rolling up the filling inside the tortillas, you layer all the ingredients, like a lasagna. In a way, this little twist came as a good surprise as I was short on time and layering is a bit quicker and easier than rolling.
Let's call it a happy surprise. 🙂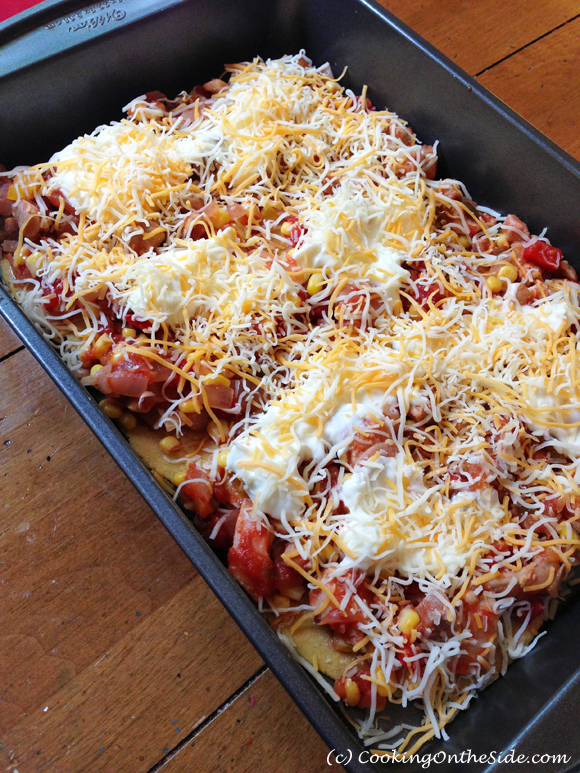 Layered Chicken Enchiladas
From the Santa Fe Enchilada Bake recipe on the back of the KRAFT Mexican Style Finely Shredded Four Cheese package
Prep time: 20 minutes | Cook time: 40 minutes | Total time: 1 hour
Yield: 8 servings
INGREDIENTS:
1 pound

boneless skinless chicken breasts, cut into bite-size pieces (I used thighs)

1

large onion, chopped

1

green bell pepper, chopped (I had a red pepper on hand)


2 cups

salsa

1 (10-ounce) package

frozen corn, thawed

12 (6-inch)

corn tortillas

1 cup

sour cream

1-1/2 cups

Mexican-style shredded cheese
DIRECTIONS:
Heat the oven to 400ºF.
Cook and stir chicken, onions and peppers in large nonstick skillet on medium heat 10 minutes or until chicken is done. Stir in salsa and corn.
Arrange 6 tortillas on bottom of 13×9-inch baking dish; cover with layers of half each of the chicken mixture, sour cream and cheese. Repeat layers; cover.
Bake 40 minutes or until heated through, uncovering for the last 10 minutes.