I was slicing and passing this Chocolate Pudding Pie at our friends' beach rental when Stephanie re-appeared in the kitchen with an untouched plate: "Ed says he needs a bigger piece."
Oh yes, a chocolate pie was completely decimated by 4 adults and 5 little kids at Mission Bay last weekend.

Ever since 7th grade home ec, Chocolate Pudding Pie has been my very favorite kind of pie. Cool, rich, no-bake – the perfect summertime treat. I have to say, though, I make it way better today than I used to. The old storebought graham cracker crust is now a rustic homemade shell, dotted with chocolate sprinkles (a la Sprinkle Bakes) for fun. No more instant pudding filling – it's now all about good old-fashioned homemade chocolate pudding, stirred on the stovetop. And the white fluffy stuff on top? Real whipped cream all the way.
As you know, on this blog I usually share the recipes I find on food packaging. This time around we'll say I was inspired by the chocolate pudding pie recipe I found on a box of JELL-O instant pudding (I have an idea of who put that box in the pantry :-)). Same concept + homemade execution = amazing summer pie.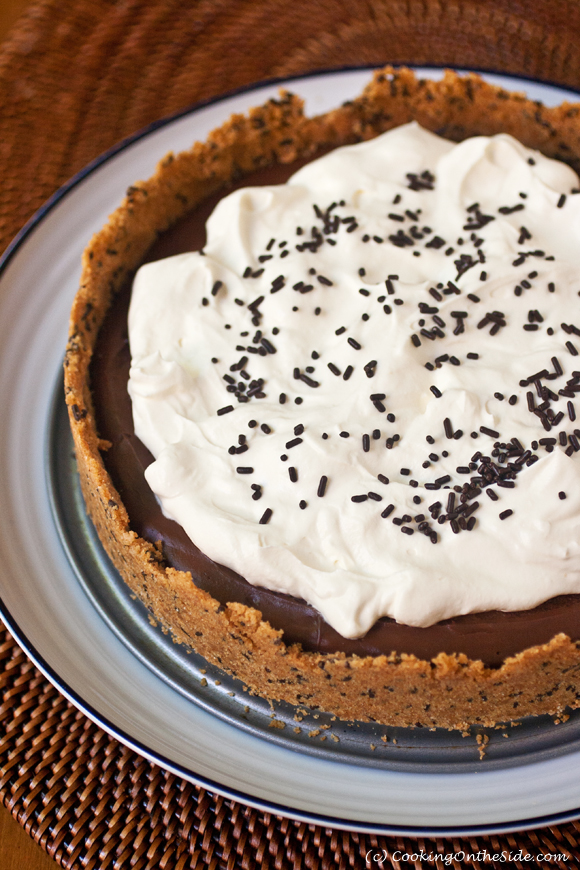 Chocolate Pudding Pie
Inspired by the Chocolate Pudding Pie recipe on the back of the JELL-O Chocolate Pudding box. Homemade pudding filling recipe adapted from Smitten Kitchen (via Gourmet). Graham cracker crust recipe adapted from the back of the HONEYMAID Graham Cracker Crumbs box.
Prep time: 25 minutes | Cook time: 20 minutes | Total time: 45 minutes (plus 3 hours' chilling time)
Yield: 8 servings
INGREDIENTS:
Sprinkle-Flecked Graham Cracker Crust:
1 1/4 cups

graham cracker crumbs

1/4 cup

sugar

1/4 cup

chocolate sprinkles, plus more for garnish

5 tablespoons

unsalted butter, melted
Chocolate Pudding Filling:
1/3 cup

sugar

1/4 cup

cornstarch

3 tablespoons

unsweetened cocoa powder

1/4 teaspoon

salt

3 cups

whole milk

4 ounces

bittersweet chocolate (not more than 60% cacao), finely chopped

1 teaspoon

vanilla extract
Whipped Cream:
1 cup

chilled heavy cream

2 tablespoons

sugar
DIRECTIONS:
Mix all of the graham cracker crust ingredients in a large bowl until well combined. Press the crust into the bottom and sides of a 9-inch springform pan. Chill the crust in the refrigerator for at least 1 hour before filling it.
Meanwhile, prepare the filling. In a 2-quart heavy saucepan, whisk together the cornstarch, sugar, cocoa powder and salt. Gradually whisk in the milk. Bring to a boil over medium heat, whisking constantly. The mixture will thicken. Continue boiling and whisking for 2 minutes. Remove the pot from the heat and whisk in the chocolate and vanilla until smooth.
Pour the filling into the chilled crust and cover the surface with waxed paper to prevent a film from forming. Chill the pie until it's cold and set, at least 2 hours.
Just before serving, whip the cream and sugar with a hand mixer or whisk in a medium bowl until it holds soft peaks.
Run a thin knife blade between the outer edge of the crust and the springform pan so it will release more easily. Spoon whipped cream over the top of the pie and garnish with chocolate sprinkles.