The ten minutes of kneading involved in making your own pizza crust provided enough tension relief to save my sanity as I was preparing this Lamb, Goat Cheese & Rosemary pizza. I discovered there was just enough yeast left in the jar to make the dough so I ever-so-carefully inverted it so as not to lose a single grain as I measured it into my bowl. Not carefully enough, it turns out. The jar slipped right out of my hands, went crashing to the tile floor and sent shards of glass spraying at least 10 feet away.
AAAAAAAAHHHH!!
It was 5 o'clock in the evening and I was already pushing my luck for adequate natural light for photography (food bloggers reading this feel my anxiety). Faced with having to vacuum and wipe down the floor to restore safe travels for my barefoot 2-year-old, I was ready to give up on the pizza-making for the day. But my ever-supportive husband encouraged me to stick it out. While I cleaned up he zipped out to Vons and picked up a new jar of yeast for me. He kept the kids occupied while I made my dough – believe me, I enjoyed every minute of kneading out my frustrations – and I finished the pizza…at 7:30 PM.
Yes, these photos were taken moments before sunset in the only scrap of light I could find – outside on the picnic table of my daughter's playhouse. The good news is we loved this pizza. It's definitely loaded. Perhaps you can see the layer of fresh Roma tomatoes lining the bottom, as well as the sundried tomatoes mixed in with the seasoned ground lamb, the crumbled goat cheese and, of course, red and green bell peppers on top. And that crust? You know, this time it seemed to taste better than any of the others I've made before. 🙂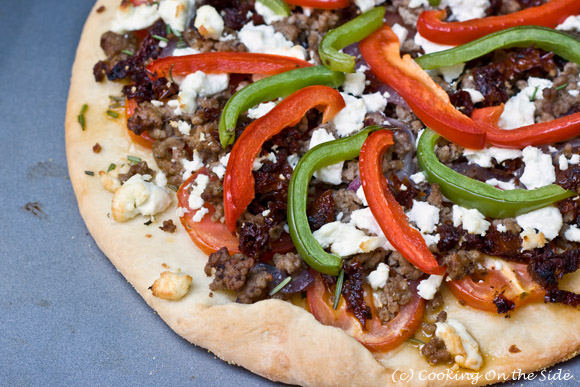 Lamb, Goat Cheese & Rosemary Pizza
Adapted slightly from the LIDO Gourmet ground lamb package
Serves 8
INGREDIENTS:
1 lb. ground lamb
1 prebaked 24″ pizza crust (or 2 12″ crusts) – See recipe below if you'd like to make your own
2 tablespoons olive oil
2 teaspoons fresh rosemary, chopped
2-4 Roma tomatoes, thinly sliced
1/2 cup red onion, chopped
1/2 cup sundried tomatoes in oil, drained and chopped
1/2 cup goat cheese, crumbled
1/2 cup red bell pepper, sliced
1/2 cup green bell pepper, sliced
1/2 teaspoon garlic salt
Pepper to taste
DIRECTIONS:
Place crust on pizza pan. Brush with oil, sprinkle with rosemary and a layer of tomatoes; set aside.
In a skillet sprayed with nonstick cooking spray, cook onion on medium-high heat for 2 minutes. Add lamb, garlic salt and pepper; cook until crumbled and no longer pink. Drain, stir in sundried tomatoes. Spread over crust. Sprinkle with cheese, bell peppers. Bake at 375°F for 16-20 minutes.
Basic Pizza Dough
From Glamour, September 2001
Makes 1 12″ pizza crust – you can double the recipe to make two crusts, like the pizza recipe calls for. Or do like my husband did and wrap the extra pizza ingredients in tortillas for lamb tacos!

INGREDIENTS:
1 package (1/4 oz.) active dry yeast
1/2 cup warm water
1 2/3 cup unbleached all-purpose flour or bread flour, plus extra for sprinkling
1 teaspoon salt
1 tablespoon olive oil
Cornmeal for dusting
DIRECTIONS:
Place the yeast in a bowl and pour water over it. Let stand 5 minutes to activate, then stir to dissolve. Toss the flour and salt into a separate large bowl and make a well in the center. Add the yeast mixture and oil to the well, gradually working in the flour with a fork. Sprinkle with flour if the mixture gets sticky, but make sure it doesn't get too dry.
Transfer to a lightly floured surface and knead for 10 minutes, sprinkling with flour as needed, until dough is lump-free. Rub oil over the dough and return it to the bowl. Cover with plastic wrap and let rise at room temperature for about 1 hour, until the dough has doubled.
Twenty minutes before the end of the rise, put a baking sheet in the oven and preheat to 375°F.
Transfer the dough to a floured surface and knead for another 30 seconds. Lift up the dough and sprinkle a generous amount of cornmeal on the surface beneath it. Place the dough on top of the cornmeal and, using your fingers, press out dough to desired size. Transfer to the pan in the oven and prebake for 10 minutes. Then continue with the pizza recipe above.