Welcome to Homemade Candy Week on Cooking On the Side! I had a blast last weekend trying out recipes for several sweet indulgences and I'm excited to share them with you. Alternatively, I could have deemed this "Chocolate Week" as we've got chocolate, chocolate and more chocolate. I figured most of you would be pretty all right with that.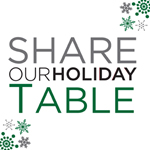 First up are Pecan & Caramel Chocolate Clusters. I'm happy to say that these decadent goodies are participating as a Gourmet dessert for Share Our Holiday Table, a seven-day, online progressive dinner series that will help raise funds for Share Our Strength's No Kid Hungry Campaign during the critical holiday period. No Kid Hungry™ is an unprecedented, five-year effort designed to end childhood hunger in America. Especially at this time of year when many of us are gathering together and sharing holiday feasts with one another it's important to remember that there are many people – children included – who don' t have enough to eat. I've made a donation to the campaign – I hope many of you will join me.
A little known fact: I actually worked behind the candy counter at a Hallmark store during high school. My best friend and I took it upon ourselves to "become well versed in" all the items we sold in the chocolate case, and thus my first introduction to caramel "turtles". To me, pecans, caramel and milk chocolate is the holy trinity of candy. Biting into one of these clusters and tasting that silky caramel stretch out from under the chocolate… it just doesn't get any better.
Surprisingly, I ended up with quite a bit of extra caramel when I prepared this recipe, from a Ghirardelli chocolate wrapper. I definitely used a generous hand when dolloping out the caramel. Evidently I was even more generous when it came to the chocolate, as I actually had to double up on that in order to cover all twenty-four pieces to my liking. I guess that's the beauty of making your own candy – the final product is completely up to you. As long as each piece had plenty of pecans, caramel and chocolate I knew I'd love every bite.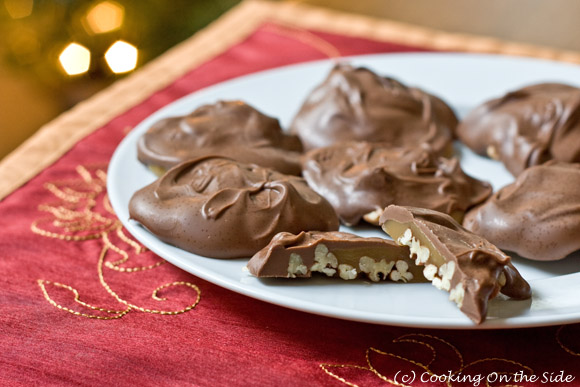 Pecan & Caramel Chocolate Clusters
From the Ghirardelli Pecan and Caramel Chocolate Clusters recipe inside the Ghirardelli Milk Chocolate Baking Bar wrapper
Yields 24 pieces
INGREDIENTS:
1 cup pecan halves
1 cup sugar
1 cup dark corn syrup
1 cup butter
1 cup heavy whipping cream
6 oz. milk chocolate baking bars, melted
DIRECTIONS:
Line a baking sheet with waxed paper.
Cut the pecans in half lengthwise and arrange to form small circles (about 1 1/2″ in diameter).
Cook the sugar, dark corn syrup, butter and 1/2 cup of cream in a saucepan. Stir occasionally over low heat, until the sugar has dissolved. Increase heat to medium and stir continuously until the temperature reaches 240°F (NOTE: This may take 15-20 min).
Remove the pan from heat and stir in the remaining cream. Heat again and stir continuously until the temperature reaches 245°F.
Pour the caramel mixture into a 9″ pan lined with foil and let it cool approximately 2 minutes. Spoon caramel mixture over each pecan circle.
Melt chocolate according to the melting instructions for your chocolate. Spread melted chocolate over each cluster. Chill 10 minutes, then let stand at room temperature until the chocolate is firm.
Store tightly covered at room temperature.
Be sure to check out the rest of the Share Our Holiday Table desserts!
Gourmet:
Family Friendly:
Vegetarian:
Gluten-Free