It was a quiet afternoon last year on the Delaware Coast in Bethany Beach – just after Labor Day so most of the summer folks had returned home for the season. My husband and I and a few of our friends had just polished off some amazing soft-shell crab sandwiches (with plenty of Old Bay!) when we found ourselves wandering into The Fudge Factory, a small outpost brimming with dozens of different types of fudge. We were literally kids in a candy store, sampling away and bringing back more peanut butter, praline and maple fudge than the rest of our group back at the condo could handle.
The Chocolate Snowswirl Fudge recipe I'm sharing today – the third and final installment of Homemade Candy Week – adds a swirly layer of marshmallow to the top of classic rich, chocolate and walnut fudge. I photographed this batch nearly two weeks ago and it's still perfectly creamy in the fridge. I'm looking forward to unloading the remaining pieces on my family in the days to come, as it's been way to easy to reach in a grab a little bite every time I've craved something sweet. 🙂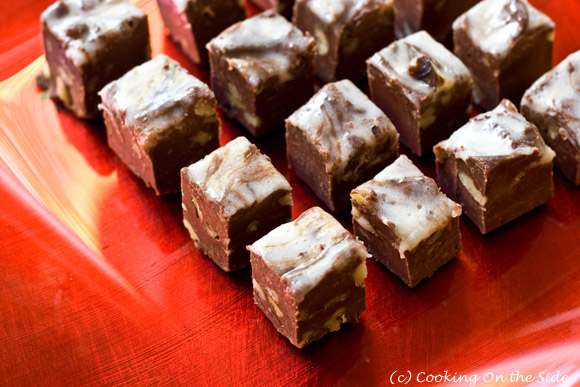 Chocolate Snowswirl Fudge
From inside the Eagle Brand Sweetened Condensed Milk can wrapper
Makes about 2 pounds of fudge
INGREDIENTS:
3 cups (18 ounces) semi-sweet chocolate chips
1 (14-ounce) can sweetened condensed milk
4 tablespoons butter or margarine, divided
Dash salt
1 1/2 teaspoons vanilla extract
1 cup chopped nuts (I used walnuts)
2 cups miniature marshmallows
DIRECTIONS:
In a heavy saucepan, over low heat, melt chocolate chips with sweetened condensed milk, 2 tablespoons butter and salt. Remove from heat; stir in vanilla extract and nuts. Spread evenly into wax paper lined 8- or 9-inch square pan.
In a medium-sized saucepan, over low heat, melt marshmallows with remaining 2 tablespoons butter. Spread on top of fudge. With table knife or metal spatula, swirl through top of fudge.
Chill at least 2 hours or until firm. Turn fudge onto cutting board; peel off paper and cut into squares. Store leftovers covered in refrigerator.