So here it is…the Gingerbread House I was working on in my last post. These things are truly a labor of love! While I don't expect Martha Stewart's people will be calling me anytime soon to build any for them, I'm still proud to have completed it. Better yet, my kids had a fun time playing with this odd little cookie house that Mommy made. 🙂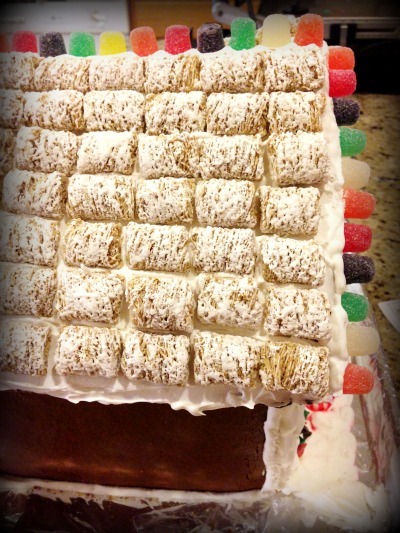 I searched grocery stores, drug stores and gas station marts – I could not find Necco wafers anywhere, which is what I really wanted to use for colorful roof tiles. Plan B was frosted mini wheats, to give a snow-covered thatched roof look, an idea suggested in the McCormick gingerbread house recipe I followed. I ended up really liking the effect.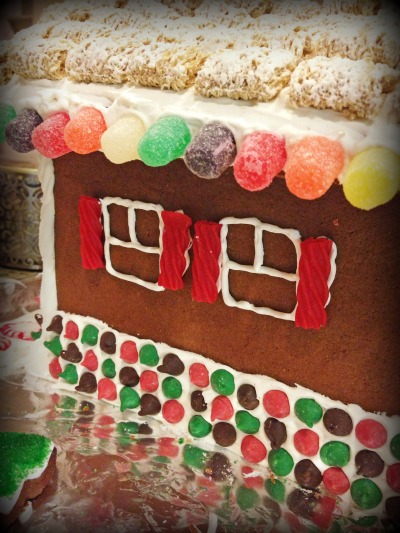 I loved to draw pictures of houses when I was a kid, always with a brick trim running along the lower edge (just like the house we lived in). So my gingerbread house has my same trademark trim, with chocolate chip "bricks".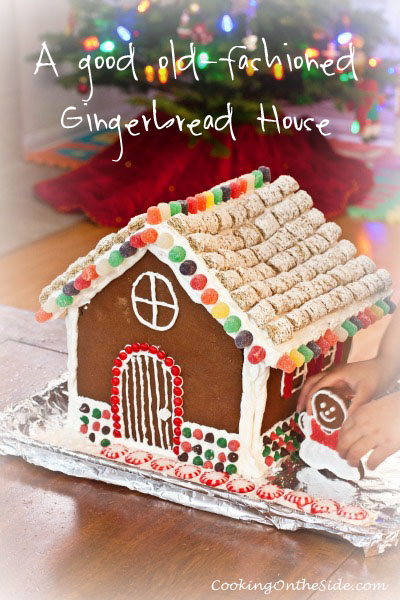 My 5-year old daughter has been saying to me lately, "Mom, don't you just love a good challenge?!" I have no idea where she got this statement from, but hopefully she's picked up a little of the sentiment from watching her old Mom. A pre-fab gingerbread house would have been a whole lot – like, a lot – easier and probably would have come out looking tidier and more presentation-worthy, but I think I'll always prefer the homemade route.
You can find the step-by-step directions that I followed (including building templates and decorating ideas) on the McCormick website.
This post was sponsored by McCormick as part of their Seven Seasonal Flavors program. My opinions are – as always – my own.