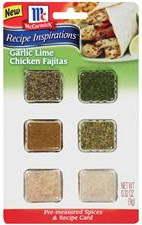 I wasn't looking for any kind of packaged spice mix when I went grocery shopping  for ingredients to make chicken fajitas. I usually prefer to just use what I have in my spice drawer at home (which is pretty robust, by the way – one day I'll post about it!). But I noticed a McCormick display promoting a new product with unusual packaging (see left). It was called Recipe Inspirations and it had six little pre-measured seasoning compartments (let me stress that I'm not being paid in any way to blog about this product). Coincidentally, one of these packets was for a marinade for Garlic Lime Chicken Fajitas.
On the back of the packet they provide a little recipe card and – unlike most spice blends – they actually give you the measurements for each spice. I'm guessing their hope is that you'll want to make the fajitas again, and next time you'll buy full bottles of the seasonings. The former marketer in me finds that kind of brilliant.
I didn't need to buy pre-measured spices, but since the packets only cost a little over a buck I figured I'd pick one up and give their fajitas recipe a try. It was tasty! Fajitas are kind of a go-to weeknight meal in our house, we have them pretty often. I'm a fan of citrus-marinated chicken, so the lime and orange juices in this recipe really worked for me. I normally would have made fajitas with fresh garlic and cilantro, but the dried seasoning approach wasn't bad either. And it definitely was a timesaver.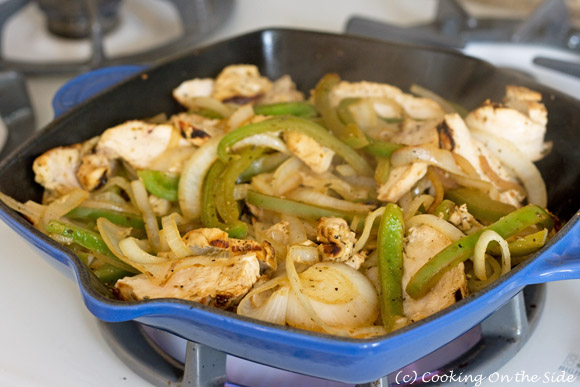 Garlic Lime Chicken Fajitas
From McCormick's Garlic Lime Fajitas Recipe Inspirations package
Makes 8 servings
INGREDIENTS:
1/4 cup each lime and orange juices
2 tablespoons olive oil
1 teaspoon dried minced garlic
1 teaspoon dried minced onions
3/4 teaspoon ground cumin
3/4 teaspoon dried oregano leaves
1/2 teaspoon dried cilantro leaves
1/2 teaspoon coarse ground black pepper
1/2 teaspoon salt
1 1/2 lbs. boneless skinless chicken breasts, cut into thin strips*
1 medium green or red bell pepper, cut into thin strips
1 medium onion, thinly sliced
8 flour tortillas (8-inch)
DIRECTIONS:
Mix juices, oil, all of the spices and salt in a small bowl. Reserve 1/4 cup of the marinade. Place chicken in large resealable plastic bag or glass dish. Add remaining marinade; turn to coat well. Refrigerate 30 minutes or longer for extra flavor.
Cook and stir chicken in large heated skillet on medium-high heat 3 minutes or until lightly browned. Remove from skillet. Add bell pepper, onion and reserved marinade; cook and stir 5 minutes or until tender. Return chicken to skillet. Cook 2 to 3 minutes or until heated through.
Spoon chicken mixture into warmed tortillas. Serve with assorted toppings, if desired.
* I opted to grill my chicken first before cutting into strips – it's up to you.