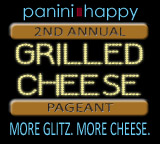 Around this time last year, I came up with the somewhat off-the-wall idea for hosting a Grilled Cheese Pageant on my other blog, Panini Happy. Influenced by the spectacle of the "Toddlers & Tiaras" TV show, I thought a pageant theme might be a fun way to spice up a blog event celebrating grilled cheese sandwiches for National Grilled Cheese Month. Fortunately, a good number of food bloggers and other grilled cheese fans saw the fun in it as well and created a fantastic variety of sandwiches to showcase. It was such a blast that I definitely had to make it an annual event.
Here's your chance to participate in this year's 2nd Annual Grilled Cheese Pageant:  just grill up a tasty grilled cheese sandwich, post it on your blog if you have one (otherwise, just send in a pic) and enter it into the Pageant. It's that simple. One randomly selected "Grand Supreme" winner will receive a beautiful Le Creuset Enameled Cast-Iron Panini Press & Skillet Grill Set ($189.95 value) in Kiwi, courtesy of Le Creuset.
To be clear, the Pageant is a celebration of grilled cheese – not a competition. I hope you'll participate! In honor of the Pageant, I made Nancy Silverton's (of La Brea Bakery fame) Grilled Cheese with Marinated Onions & Whole Grain Mustard sandwich. The combination is truly amazing, with the acidity of the marinated onions and mustard marrying perfectly with the nutty Gruyère.
~ ~ ~
Grilled Cheese with Marinated Onions & Whole Grain Mustard
By Nancy Silverton, founder of La Brea Bakery, from the Classic Grilled Cheese with Marinated Onions & Whole-Grain Mustard recipe on the La Brea Bakery Country White Sourdough Oval bag (adapted slightly)
Makes 4 sandwiches
INGREDIENTS:
8 slices sourdough bread
1/4 cup whole-grain mustard
8 ounces Gruyere cheese, sliced into 24-32 1/16-inch-thick slices
3 tablespoons extra-virgin olive oil
1 tablespoon champagne or white-wine vinegar
1 tablespoon Kosher salt
1 1/2 teaspoons freshly cracked black pepper
1 medium yellow onion, halved and sliced 1/8- inch-thick
2 tablespoons melted butter, for brushing
DIRECTIONS:
Preheat: Panini grill to high setting or skillet to moderate heat
In a medium bowl, combine the oil, vinegar, salt, and pepper. Add the onions, toss to coat them, and allow to marinate for 15-20 minutes at room temperature.
Lightly butter one side of each slice of bread (or brush with olive oil). Place half of the slices buttered side down and spread an even layer of mustard over the bread and cover with half the cheese slices, folding them back in toward the middle if they extend past the edges of the bread.  Scatter the marinated onions on top and place the remaining cheese slices over the onions. Put the top slices of bread over the cheese, buttered side up. Grill the sandwiches in a moderately hot skillet or Panini grill for 4-5 minutes until the bread is golden brown and the cheese has melted. If working in a skillet, turn sandwiches over halfway through grilling. Cut each sandwich in half on the diagonal and serve.