Believe it or not, these Easter Bird's Nest Cookies actually appeal more to grown-ups than to kids…at least according to my non-scientific research earlier this week at our annual playgroup Easter egg hunt. While the kids mainly honed in on the little candy-coated chocolate eggs, my friends found themselves grabbing for seconds of the not-too-sweet toasted coconut shortbread nests.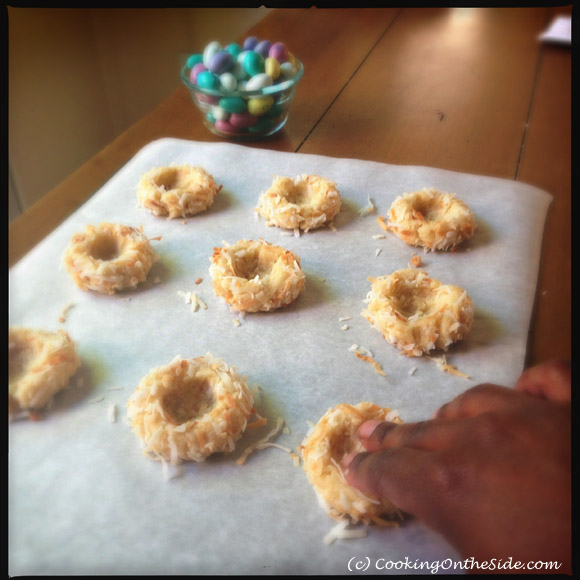 Our playgroup has been meeting weekly for 5 years now, since the kids were babies. The other moms in the group have become some of my closest friends. These ongoing playdates are definitely as much for us as they are for the kids! I love the little village we've created amongst ourselves as we figure out this thing called parenting. 🙂
One more thing to note about these cookies: they're a little unusual in that the shortbread is essentially a bowl you fill with the candy. The eggs rest inside each nest, but aren't affixed to it, so if you're transporting them to a get-together (as I was) your best bet is to bring the candies separately and fill the nests once you arrive at your destination.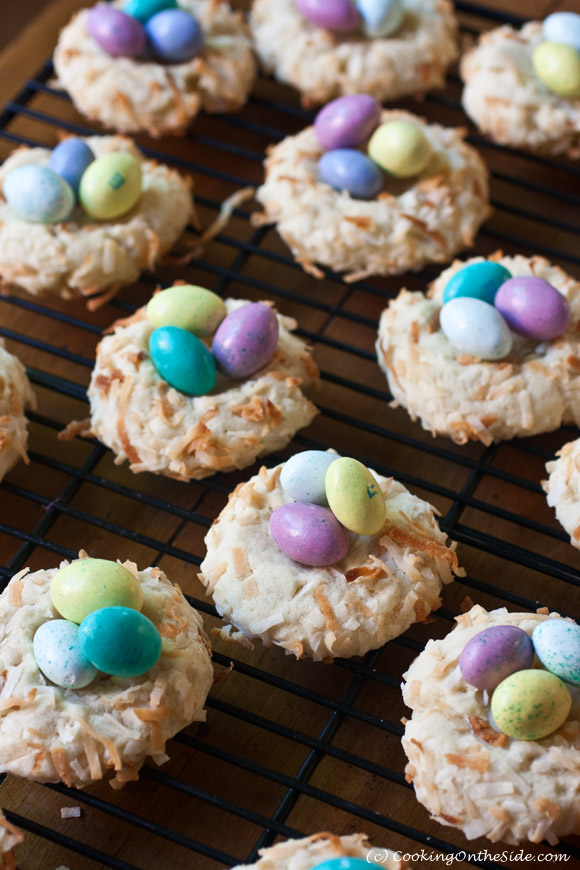 Easter Bird's Nest Cookies
From the back of the M&M's® Brand Speckled Milk Chocolate Eggs package
Prep time: 25 minutes | Cook time: 30 minutes | Total time: 55 minutes
Yield: 3 dozen cookies
INGREDIENTS:
1 1/3 cup

flaked, sweetened coconut

1 cup (2 sticks)

unsalted butter, softened

1/2 cup

granulated sugar

1

large egg

1/2 teaspoon

vanilla extract

2 cups

all-purpose flour

3/4 teaspoon

salt

1 1/2 cups

M&M's® Brand Speckled Milk Chocolate Eggs
DIRECTIONS:
Preheat oven to 300°F. Spread coconut on non-greased cookie sheet. Toast in oven, stirring occasionally, until it turns light golden, about 25 minutes.
Remove coconut from cookie sheet and set aside.
Increase oven temperature to 350°F. In large bowl, add butter and sugar and whip until light and fluffy; beat in egg and vanilla.
In medium bowl, combine flour and salt. Blend into creamed mixture.
Form dough into 1-1/4-inch balls. Roll heavily into toasted coconut.
Place coconut cookies 2 inches apart on lightly greased cookie sheets. Make indentation with thumb in center of each cookie. Bake 12 to 14 minutes or until golden brown.
Remove cookies and cool completely. Fill indentations with M&M's® Brand Speckled Milk Chocolate Eggs.