I couldn't resist – a recipe like this begs to be tried, don't you think? This 9-Layer No-Bake Matzo Cake is only half as tall as it was supposed to be. The original recipe, from the back of a box of Manischewitz matzo, called for a whopping 18 layers of chocolate covered matzo, sandwiched with almond-laced whipped cream, espresso-spiked chocolate mousse and crunchy chopped almonds.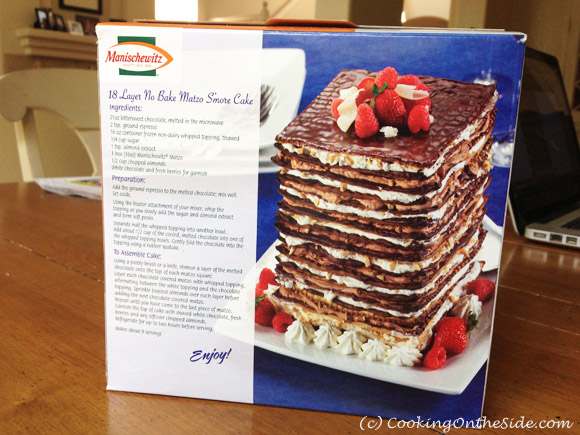 Look at that. It's quite the behemoth – about 12 inches tall, extrapolating from how high my short stack reached. The recipe called it a "S'more Cake", but with the absence of both graham crackers and marshmallows, that seems like a bit of a stretch.  Whatever you want to call it, it would be quite the conversation piece at a Passover seder, to say the least! And, fortunately, much of the conversation would also center around how surprisingly tasty it is. A challenge to serve, yes (easiest to serve it a layer at a time), but it's actually kind of delicious.

This is a no-bake cake, so most of your time will be spent in preparing and assembling the layers. As I mentioned before, there are some complex flavors going on in this otherwise simple dish. The dark chocolate is combined with espresso powder to enhance the chocolate flavor. And there's almond extract mixed in with the whipped cream to keep things even more interesting for your taste buds.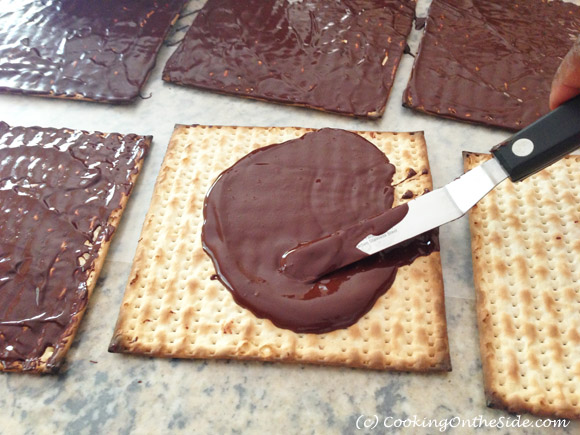 I found the easiest way to spread the chocolate on all of the sheets of matzo was to just pour a bit onto the center and then spread it around with an offset knife. I actually ended up assembling each layer separately, topping the chocolate-covered matzo with either whipped cream or chocolate mousse and then chopped almonds, and then stacking the layers on top of each other.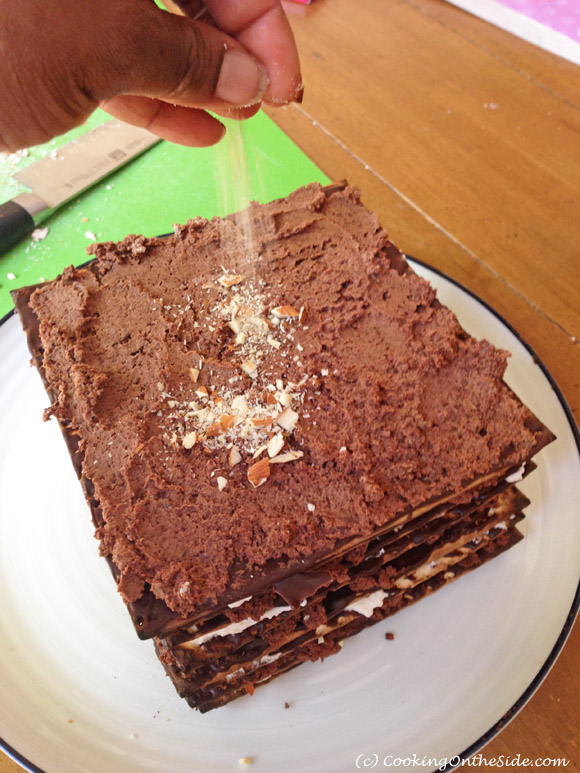 The recipe was very simple and straightforward – BUT – I did still manage to mess up one step. The recipe says to mix 1/2 cup of the melted chocolate in with the whipped cream, to create a mousse-like mixture. Well, my eyes must have skimmed past the word "cup" and I mixed in half of all the chocolate – which was well more than 1/2 cup. All in all, it wasn't a big deal – my mousse was a bit thicker than it probably should have been, and I wound up with 9 layers rather than 18. Believe me, it was plenty. But I hope at least one of you will build the full tower and report back!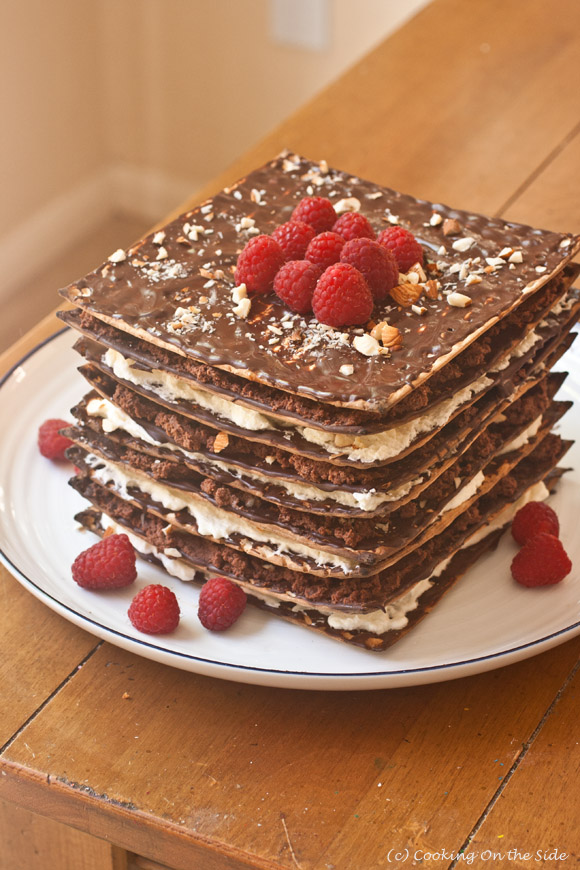 18-Layer No-Bake Matzo Cake
From the 18 Layer No Bake Matzo S'more Cake recipe on the back of the Manischewitz Matzo box
Prep time: 1 hour | Cook time: 0 minutes | Total time: 1 hour
Yield: 9 servings
INGREDIENTS:
21 ounces

bittersweet chocolate, melted in the microwave

2 teaspoons

ground espresso

1 (16-ounce container)

frozen non-dairy whipped topping, thawed*

1/4 cup

sugar*

1 teaspoon

almond extract

1 box (16 ounces)

matzo

1/2 cup

chopped almonds

White chocolate and fresh berries for garnish
DIRECTIONS:
Preparation:
Add the ground espresso to the melted chocolate; mix well. Set aside.
Using the beater attachment of your mixer, whip the topping as you slowly add the sugar and almond extract and form soft peaks.
Separate half the whipped topping into another bowl. Add about 1/2 cup of the cooled, melted chocolate into one of the whipped topping bowls. Gently fold the chocolate into the topping using a rubber spatula.
To assemble the cake:
Using a pastry brush or a knife, shmear a layer of the melted chocolate onto the top of each matzo square.
Layer each chocolate covered matzo with whipped topping, alternating between the white topping and the chocolate topping. Sprinkle chopped almonds over each layer before adding the next chocolate covered matzo.
Repeat until you have come to the last piece of matzo.
Garnish the top of the cake with shaved white chocolate, fresh berries and any leftover chopped almonds.
Refrigerate for up to two hours before serving.
* Alternatively, you can use 2 cups of heavy whipping cream in place of the non-dairy whipped topping, and increase the sugar to 1/2 cup. That said, if you're observing kosher Passover laws and serving meat for your main meal, you'll want to stick with the non-dairy approach.