Before I get to today's recipe for a bright, refreshing Citrus Salsa – a fresh salsa made with oranges, tomatoes, sweet onions, lime juice and jalapeños – I thought we might start with a fun little (non-scientific) quiz for a change. Do you have a sweet tooth? Or do you tend to go salty? Let's find out.
1. It's 10 AM on a Saturday morning and you're perusing the menu at your local brunch spot. Do you go with:
a) The buttermilk pancakes with caramelized bananas
b) The spinach, bacon and cheddar omelet
2. It's lunchtime and you've ordered a sandwich combo that comes with one side order. Would you choose:
a) The cookie or fruit
b) The chips or pretzels
3. Do you have candy in your house right now?
a) Yes, it's actually within arm's reach, now that you ask
b) No, once the Halloween stash is gone that's usually it for the year
4. You're 10 years old again and dipping chicken nuggets. You go for:
a) The honey
b) The barbecue sauce
Mostly a's? Hello, Sweet Tooth! Mostly b's? Sounds like you may have a taste for the salt. Okay, don't take this exercise too seriously. 🙂 What brought this all about was this Citrus Salsa recipe I'm sharing today. My palate tends toward the sweeter side, but I began to question it when I just couldn't bring myself to include the one ingredient that was supposed to be featured…three packets of Splenda.
Yes, this recipe actually comes from the back of a box of Splenda artificial sweetener (I'm usually a "real food" girl all the way, but I do like this stuff in my coffee). The idea of adding the equivalent of 2 tablespoons of sugar to a naturally sweet dish seemed a little over the top for me. So I left it out. On its own, the salsa is wonderfully refreshing and a little bit tangy with a touch of heat. Not only did I not miss the extra sweetness one bit I actually craved the saltiness from the blue corn chips each time I scooped the salsa. Maybe I'm a salty type after all?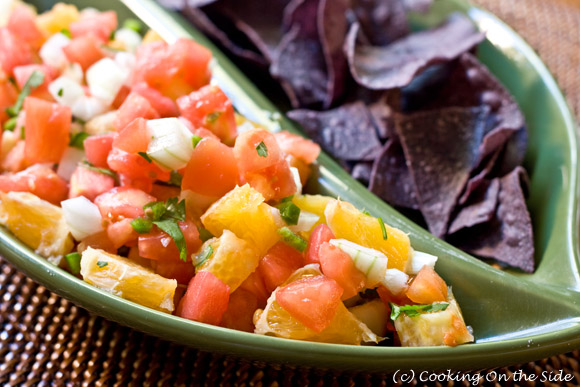 Citrus Salsa
From the back of the SPLENDA No Calorie Sweetener box
Serves 5
INGREDIENTS:
4 Roma tomatoes
2 large oranges, peeled and diced
1 large Vidalia onion, peeled and chopped (I used a sweet Mayan)
2 jalapeño peppers, seeded and minced
2 tablespoons fresh lime juice
1/4 cup fresh orange juice
3 packets SPLENDA No Calorie Sweetener (I omitted this)
1 tablespoon chopped fresh cilantro
1 teaspoon salt
DIRECTIONS:
Bring small saucepan of water to a boil. Blanch tomatoes for 30 seconds and then rinse with cold water. Peel and chop the tomatoes.
Place all ingredients in a large bowl and stir until mixed thoroughly. Allow to stand at room temperature for one hour. Mix and serve. Refrigerate any unused salsa.