Well, there's a good lesson learned here: when in doubt about a recipe, Google it. If I had done so, it would have quickly been clear to me that my version of the Cheddar-Stuffed Crusty Loaves from the back of the King Arthur bread flour package would be a little different from what the recipe originally intended. Not bad or even wrong per se, but different.
What tripped me up was the direction to position the dough, which had been rolled into a cheddar stuffed log and sliced into four sections, cut-side down. Really? So this rolled up dough was supposed to just sit there on the parchment, like a four-inch tall tree stump, and bake properly in the oven? It just didn't look right to me. So I made the call to go ahead and position the dough on its side, with the smooth side up. Well, as you can see in the photo above there's actually a valid reason not to do that – the dough kind of shoots out of the sides.
If I'd consulted The Google, I would have discovered that YES, in fact you are supposed to set the dough on its cut side like a little tree stump. When you do, you're rewarded with a nice, round little loaf with a lava-like flow of extra sharp cheddar cascading down from the middle (see a photo here). Aha.
Sigh…I still was happy with how my loaves turned out, even if they were a little tweaked. They tasted great (would go great with some spicy chili) and, hey, mine came with handles! They gave me easy access to the cheesy center of the bread, which is the best part of it anyway. 🙂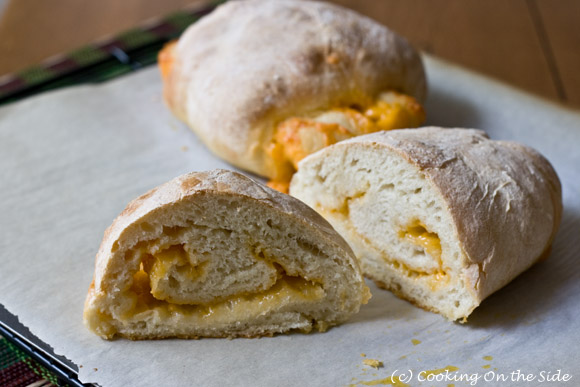 Cheddar-Stuffed Crusty Loaves
From the back of the King Arthur Unbleached Bread Flour package
Yields 2 full-size or 4 smaller loaves
INGREDIENTS:
Starter:
1 1/4 cups bread flour
1 teaspoon salt
1/2 teaspoon instant yeast*
1/2 cup cool water
Dough:
All of the starter
1 to 1 1/4 cups lukewarm water
3 1/2 cups bread flour
1/2 teaspoon instant yeast*
Filling:
2 1/2 cups extra sharp cheddar cheese, grated or shredded
1 tablespoon garlic oil (optional)
DIRECTIONS:
To make the starter: Mix the 1 1/4 cups flour, salt, yeast and 1/2 cup water. The starter will be very dry; if it doesn't come together, add a bit more water. Cover and let rest overnight at room temperature; it'll become bubbly.
To make the dough: Combine the risen starter with the water, salt, flour and yeast. Knead – by hand, mixer or bread machine set on the dough cycle – to make a smooth dough. Place the dough in a lightly greased bowl, cover and let it rise for 1 1/2 to 2 hours, until it's nearly doubled in bulk.
Pat and stretch the dough into a 9″ x 12″ rectangle. Spritz with water and sprinkle with the grated cheddar cheese. Starting with a long side, roll it into a log, pinching the seam to seal. Place the log, seam-side down, on a lightly floured or lightly oiled surface. Cover it and let it rise for 1 to 1 1/2 hours, until it's puffy though not doubled in bulk. Towards the end of the rising time, preheat the oven to 425°F.
Cut the log into four crosswise slices, for mini-breads; or simply cut the dough in half, for two normal-sized loaves. Place them on one (for two loaves) or two (for four mini-loaves) lightly greased or parchment-lined baking sheets, cut side up. Spritz with warm water.
Bake for 20 minutes (for the mini-loaves), or 35 minutes (for the full-sized loaves), or until the cheese is melted and the loaves are a very deep golden brown. Remove from the oven; serve warm.
*I used Fleischmann's Rapid Rise Yeast. Instant yeast is not the same as active dry yeast.