As busy as the holiday season gets – and this one is proving to be one for the records – I make it a point to carve out time for the things that I enjoy most about the holidays, such as baking and exchanging cookies. This year's Great Food Blogger Cookie Swap, masterfully organized by Lindsay from Love & Olive Oil and Julie from The Little Kitchen, turned to be the mother of all cookie exchanges I've ever participated in, with more than 600 food bloggers sending 22,000 cookies around the world!
I took the opportunity to try out a Chocolate-Raspberry Thumbprint cookie recipe I found inside a box of Ziploc bags. What drew me most to these cookies (besides the obvious terrific combo of chocolate and raspberries) was the cream cheese in the dough. I hoped the cream cheese would give the cookies a soft, tender texture and that's exactly what I got. I was happy to wrap them up and ship them off, a dozen at a time, to someone I've known since my early days of blogging, Shelby from The Life and Loves of Grumpy's Honeybunch, as well as two folks I'm now "meeting" for the first time: Desiree from Gustatoria and Allison from Decadent Philistines Save the World.
And since this was exchange, that means I also received three dozen cookies in the mail as well! Read on to see the terrific cookies that arrived on my doorstep as well as the recipe for the Chocolate-Raspberry Thumbprint cookies that I sent.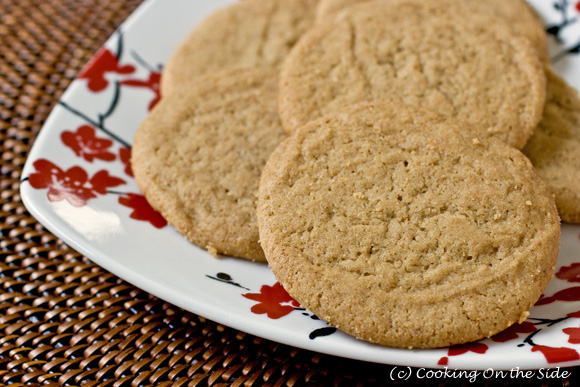 These Brown Butter Holiday Spice Cookies arrived from Michelle at Delishiono. They're full of wonderful spices and just melt in your mouth.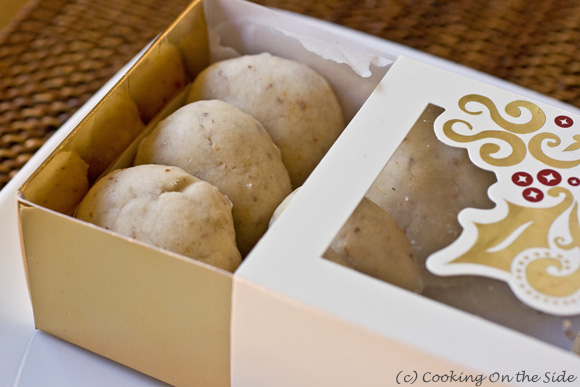 Lily from Small Kitchen College sent me this sweet little box of Meyer Lemon Cookies – I had a hard time keeping my family from tucking their hands in to grab one before I could snap a photo!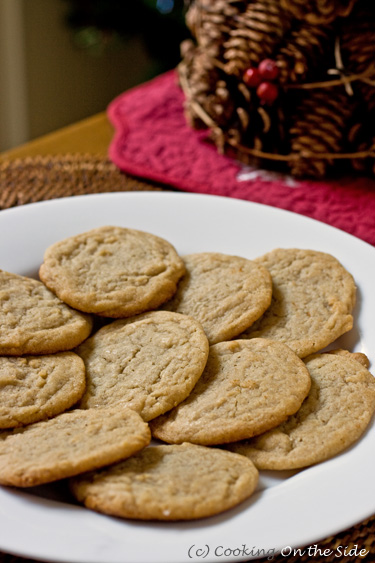 The first cookies I received were these Sorghum Cookies from Fred at Grown Away – Adventures in Food and they were definitely consumed before the next package arrived. I still don't know what sorghum is, but it tasted great!
If you're a blogger and you'd like to participate in next year's Great Food Blogger Cookie Swap (Lindsay and Julie have assured us that there will be a next year!)  you can find information on how to sign up here. In the meantime, enjoy these Chocolate Thumbprint Cookies!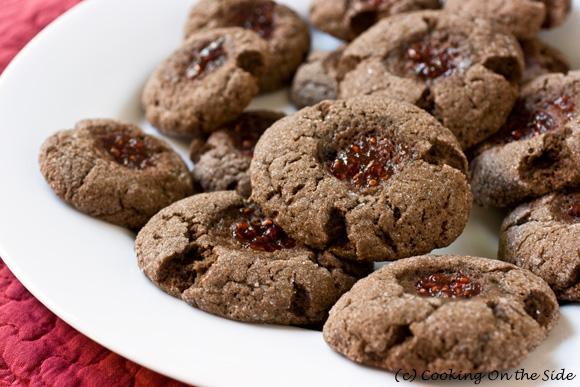 Chocolate-Raspberry Thumbprint Cookies
From the Chocolate-Raspberry Thumbprints recipe inside a box of Ziploc Bags.
Prep time: 20 minutes, plus refrigerating | Cook time: 20 minutes | Total time: 40 minutes
Yield: 4-1/2 dozen cookies
INGREDIENTS:
2 cups

all-purpose flour

1 teaspoon

baking soda

1/4 teaspoon

salt

4 ounces

unsweetened chocolate

1/2 cup (1 stick)

unsalted butter

8 ounces

cream cheese, softened

1 1/4 cups

granulated sugar, divided

1

egg

1 teaspoon

vanilla extract

1/3 cup

red raspberry jam
DIRECTIONS:
Heat the oven to 375°F.
Mix the flour, baking soda and salt; set aside. Microwave the chocolate and butter in a large microwaveable bowl on HIGH for 2 minutes; stir until the chocolate is completely melted. Whisk in the cream cheese. Add 1 cup of the sugar, egg and vanilla; mix well. Stir in the flour mixture. Refrigerate for 15 minutes.
Roll the dough into 1-inch balls; coat with the remaining sugar. Place, 2 inches apart, on baking sheets. Press your thumb into the center of each ball; fill each indentation with about 1/4 teaspoon jam.
Bake for 8 to 10 minutes or until the cookies are lightly browned. Cool 1 minute on the baking sheet, then transfer to wire racks. Cool completely.