Do unusual fruits or vegetables catch your eye in your produce section and leave you wondering what they're like? For me, it's been the multicolor carrots lately. Despite the fact that I'm not the biggest carrot fan in the world I couldn't resist the opportunity to put those beautiful colors in a dish. I finally picked up a package to see if they had a recipe on the back and, sure enough, there was this simple-yet-flavorful and oh-so-pretty Chilled Dill Carrot Salad.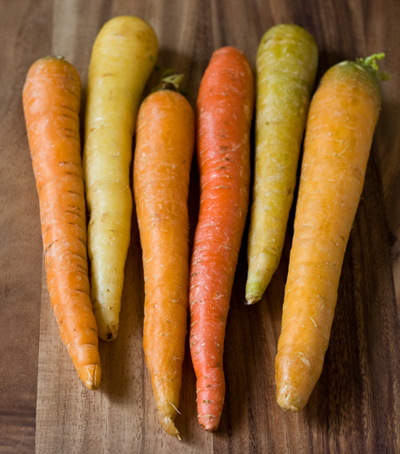 I'm not quite sure where these carrots get their different colors from. The Colorful Harvest (the company who distributes them) website mentions that they're "traditionally bred" and "heirloom style" so I suppose that means they grow this way naturally. They didn't really taste all that different from conventional carrots, but I did perceive the yellow ones to be a bit crisper in texture.
The salad is incredibly simple – the carrots are sliced, blanched, tossed in a dill-red wine vinaigrette and chilled to blend the flavors. Even if you can't find the multicolor carrots in your area this still would make a great healthy side dish with the conventional variety.
Chilled Dill Carrot Salad
From the Rainbow Crunch Carrots package
Serves 4
INGREDIENTS:
2 cups carrots, peeled and thinly sliced *
1/2 cup shallots or red onions, diced
1 tablespoon olive oil
1 tablespoon red wine vinegar
2-3 pieces fresh dill, chopped
Salt and pepper to taste
DIRECTIONS:
Boil carrots until tender yet crisp, about 2 minutes. Rinse under cold water and drain. Combine carrots and onions. Mix remaining ingredients in a small bowl until well blended. Pour over carrot mixture and toss well. Refrigerate at least 3 hours to blend flavors.
* If you can find multicolor carrots – Rainbow Crunch is one brand – they look really pretty in this salad!