[tweetmeme] Is there anything more homey than a big ol' broccoli casserole? Perhaps it's a sign of my "settling down", now that I'm married with two kids and live in the suburbs (when did this happen?) but I've rediscovered casseroles in the past year or so. You'll almost never see one on a restaurant menu but so many of us grew up with them on our dinner tables at home. When that shallow 13 x 9″ dish comes out of the oven, with errant strands of cheese baked onto the sides, I just know I'm in for a treat.
I'd actually describe this casserole as "mac & cheese with broccoli".  Steamed broccoli is tossed with spiral-y fusilli pasta in a creamy cheddar cheese sauce, topped with Parmesan and baked to bubbly deliciousness.  I'm pretty sure I found this recipe on the side of a package of broccoli florets, although unfortunately I forgot to save enough of the original package to know for sure. Two good things I do know: 1) it tastes great alongside ham and 2) even a two-year-old will eat it.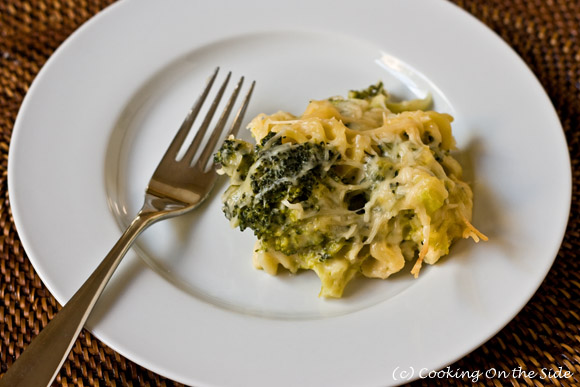 Broccoli Cheese Pasta Casserole
From the Pasta Broccoli Cheese Bake recipe on a package of frozen broccoli florets
Serves 6
INGREDIENTS:
1 (8 oz.) package fusilli pasta
1 tablespoon olive oil
2 teaspoons salt
1/3 cup butter or margarine*
1/3 cup all-purpose flour
3 cups milk
3/4 cups shredded Parmesan cheese
1 teaspoon salt
1/2 teaspoon garlic powder
1/8 teaspoon ground nutmeg
1/8 teaspoon dried thyme
1 1/2 cups shredded sharp cheddar cheese
2 (14 oz.) packages frozen broccoli florets **
DIRECTIONS:
Preheat the oven to 350°F.
In a large pot of boiling water add 2 teaspoons salt and one tablespoon olive oil. Add fusilli pasta and cook until al dente. Drain.
Cook broccoli in microwave for 6 minutes. Drain any water.
In a large saucepan melt butter or margarine; stir in flour and milk and whisk until mixture boils and thickens. Add cheddar cheese, salt, garlic powder, nutmeg and thyme and stir until blended.
Add cooked broccoli and drained pasta to cheese sauce. Mix well. Spoon into a greased 9 x 13-inch baking dish. Cover with shredded Parmesan cheese.
Bake uncovered for 20 minutes. Let stand 10 minutes before serving.
Refrigerate any leftovers.
* If you use unsalted butter, as I did, you may want to add more salt to the cheese sauce
** I used about 3 crowns of fresh broccoli