Yesterday, for me, was one of those "and this too shall pass" kind of days. You know the ones where every last thing seems to go wrong – spills, leaks, costly repairs, overcharges, email snafus, you name it.
I'm turning the page on yesterday – today is a new day and we're going to start fresh. To send some positivity out into the universe, I want to share a little anecdote from my high school days. It has absolutely nothing to do with these Chicken, Caramelized Onion and Mango Quesadillas that we had for dinner over the weekend…except to say that, like this story, the bright colors and flavors in these fantastic quesadillas remind me that there are lots of little "good things" we encounter every day. We just have to open our eyes to notice them.

When I was in high school I worked at a Hallmark store on Main Street in Westport, Connecticut. A very elderly woman from an apartment above the store would come in regularly, wearing chalky bright pink lipstick. She would buy a Charleston Chew at the candy counter, where I was usually stationed (I enjoyed this after school job). Her selection always baffled me as she was a denture wearer (those things never stayed in place). One day I arrived at the store and one of my co-workers alerted me to an envelope waiting for me up at the register. I found the envelope, with a check for $25 made out (in very shaky handwriting) in my name. I don't remember exactly what the attached note said but it was essentially a thank-you note, for always being nice to her. I was just a 16-year old girl working behind the candy counter and chatting with the customers, but for her our interactions were a meaningful part of her day. She never came around again so I could thank her – I assume she left the check as a parting gift as she moved away.
It made me smile to remember this episode yesterday, and helped me to put my bad day in some perspective. I'll make the repairs and clear up the email issues – they're just roadblocks. Whether or not I always notice it, there's plenty of good stuff happening every day too. Today will be better – I've decided it!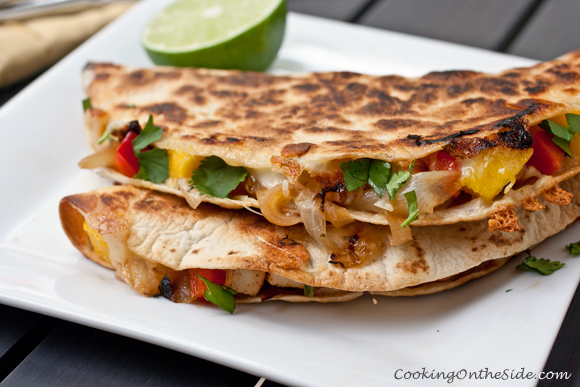 Chicken, Caramelized Onion and Mango Quesadillas
From a 3 lb bag of Home Grown White Onions
Prep time: 20 minutes | Cook time: 40 minutes | Total time: 1 hour
Yield: 4 main dish or 8 appetizer servings
INGREDIENTS:
2 tablespoons

butter

2

large white onions, sliced

1 cup

diced cooked chicken

1 tablespoon

fresh lime juice

1/2 teaspoon

chile powder

1 1/2 cups

shredded pepper jack cheese

3/4 cup

diced fresh mango

1/4 cup

chopped red bell pepper

2 tablespoons

chopped fresh cilantro

4

(10-inch) flour tortillas
DIRECTIONS:
Melt butter in a large skillet. Add onions and cook over medium-low heat, stirring occasionally, for 20 to 25 minutes or until onions are golden brown and caramelized.
Season chicken with lime juice and chile powder.
Place equal amounts of caramelized onions, chicken, cheese, mango, bell pepper and cilantro on half of each tortilla. Fold in half and cook in a large nonstick skillet over medium heat for 5 minutes on each side or until cheese is melted and tortillas are golden brown and crisp.