We walked into the restaurant for a good friend's birthday dinner a few years back and right away we noticed there was something odd about this steakhouse. Smoke rising from steaks searing on an open grill was, of course, expected. But as we moved further into the dining room the smell of those steaks actually seemed to be emanating from rather close by…like they were being grilled right there in the dining room. Oh my goodness, by the restaurant patrons themselves!
If you haven't been to one of those do-it-yourself grill places (there are a few here in San Diego), it can be a fun social experience with a group. Especially with a group of inexperienced grillers. At the time of this party, my husband and I were abysmally bad at grilling. I don't think we even owned a barbecue at that point. We could execute a decent burger… beyond that was uncharted territory. Suffice it to say, we enjoyed a lot of side dishes at that party!
These days I'm proud to say I'm a confident griller. I fire up the barbecue nearly every weekend in the summer and lately I've been able to manage one weeknight grilled meal as well. Today's Balsamic Marinated Lamb Chops are perfect for a weeknight. It takes just minutes to assemble the marinade, which is a fabulous combination of savory and tangy flavors. Let the lamb bathe in those flavors overnight, then just grill them off in under 15 minutes for dinner. Toss some asparagus in olive oil, salt and lemon pepper and roll them on the grates for a few minutes while the meat is resting and you've got a meal!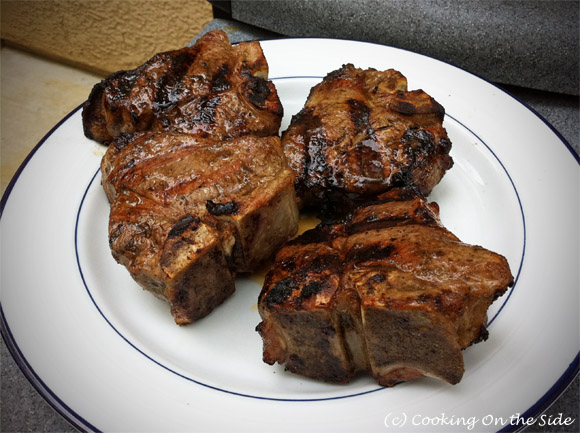 Balsamic Marinated Lamb Chops
Adapted from the Rocky Mountain Grill recipe by the American Lamb Board on a package of lamb loin chops
Prep time: 5 min (plus marinating time) | Cook time: 14 min | Total time: 19 min (plus marinating time)
Yield: 4 servings
INGREDIENTS:
1 1/2 teaspoon

dried sage, crumbled

1 teaspoon

grated onion

1/2 teaspoon

lemon pepper

1/2 teaspoon

coarse-grained mustard

1/4 teaspoon

cayenne pepper

2 tablespoons

olive oil

2 tablespoons

water

2 tablespoons

balsamic vinegar

4

lamb loin chops
DIRECTIONS:
Mix all ingredients except lamb chops. Place the chops in a large resealable plastic bag with the marinade and refrigerate for up to 24 hours.
Remove the chops from the plastic bag and discard the remaining marinade. Broil or grill 4-6 inches from the source of heat for about six minutes per side or until desired doneness. (I grilled 7 minutes per side on a gas grill over medium-high heat for medium doneness).
Allow the meat to rest for 5-10 minutes before serving.