I've struggled in the past to make mashed potatoes with the texture I really like – the really fluffy, smooth, creamy kind. Maybe I'd been using the wrong kind of potatoes or I wasn't cooking the potatoes for long enough or I could have benefited from a tool like a potato ricer…but I think the real reason I wasn't getting the result I wanted is that I was reluctant to use enough of a few key ingredients. Namely butter and cream.
Well, I've gotten past that now.
Caution to the wind, I took up Swanson's on its recipe suggestion (inside the chicken broth wrapper) to incorporate cream, sour cream and butter into these mashed potatoes, along with crumbled bacon and chopped fresh chives. They're over-the-top amazing! I can't recall what type of potatoes I've used in the past, but this time I used buttery Yukon Golds and the flavor and texture were just right. Boiling them in chicken broth added even more savory flavor. Swanson's calls them "Ultimate Mashed Potatoes" and it's no overstatement.
I'm still open to trying healthier mashed potato recipes – this one will probably be reserved for special occasions in our house. But I guess this gives me one more reason to look forward to the holidays!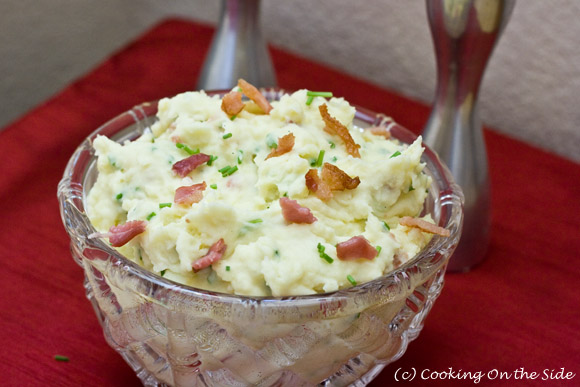 Bacon, Sour Cream & Chive Mashed Potatoes
From the Ultimate Mashed Potatoes recipe inside the Swanson's Chicken Broth wrapper
Serves 6
INGREDIENTS:
2 cans (14 oz. each) chicken broth (3 1/2 cups)
5 large potatoes, peeled and cut into 1″ pieces
1/2 cup light cream
2 tablespoons butter
Generous dash ground black pepper
1/2 cup sour cream
3 slices bacon, cooked and crumbled
1/4 cup chopped fresh chives
DIRECTIONS:
Heat broth and potatoes in a 3-quart saucepan over medium-high heat to a boil. Reduce heat to medium. Cover and cook for 10 minutes or until potatoes are tender. Drain, reserving broth.
Mash potatoes with 1/4 cup broth, cream, butter and black pepper. Stir in sour cream, bacon (reserve some for garnish) and chives. Sprinkle with remaining bacon.