Can anyone tell me what this dish is? I know it's called an Asparagus Torta…but what is it?
I've been carrying this recipe around for a few years now, it was printed on the little twist-tie that goes around a bunch of asparagus. It's a simple little recipe, with a lot of eggs and parmesan like a frittata. But it also calls for a lot of breadcrumbs, giving it a texture similar to southern cornbread dressing or spoon bread. It's tasty! Dare I say it's almost like a savory brownie? That might be going a little far.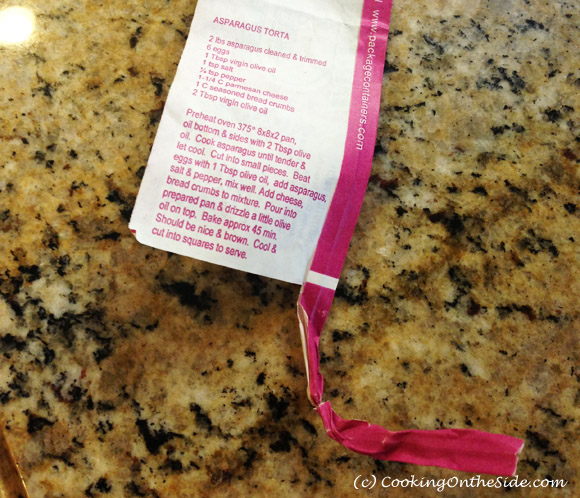 I'm a pretty good Google searcher, but the best I've been able to come up with so far is that it's likely Italian in origin. I'm categorizing this torta under "Brunch" because it tastes like an egg dish I'd enjoy for breakfast or lunch (and, in fact, I did), or an appetizer, but I could also see it as a dinner side dish. But I'm still really curious to learn when it's supposed to be served. Did someone at the asparagus company just make this up, or is this type of torta really a "thing" somewhere in the world? If you have any insights, please share!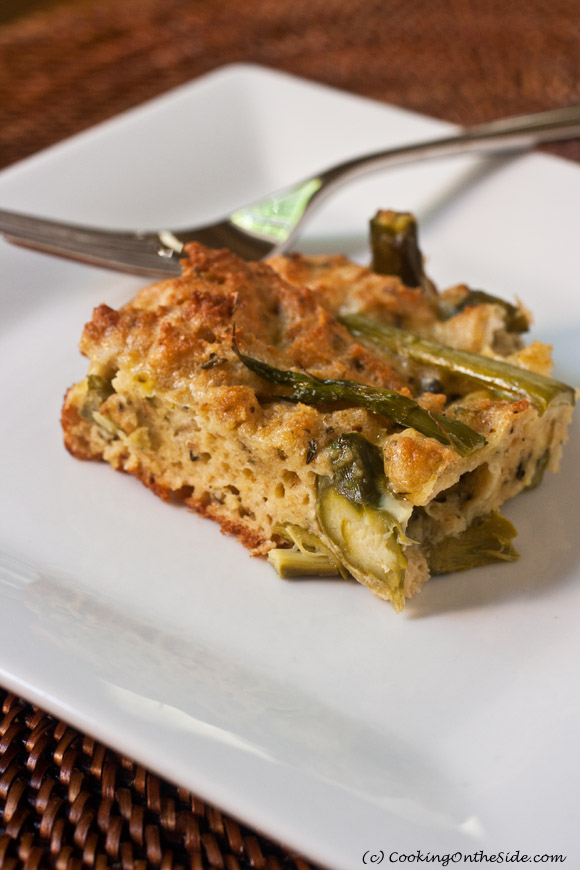 Asparagus Torta
From the Delta Queen Asparagus twist-tie wrapper
Prep time: 25 mintues | Cook time: 45 minutes | Total time: 1 hour 10 minutes
Yield: 9 squares
INGREDIENTS:
2 pounds

asparagus, cleaned and trimmed

6

eggs

1 tablespoon

extra virgin olive oil

1 teaspoon

salt

1/4 teaspoon

pepper

1 1/4 cups

parmesan cheese

1 cup

seasoned bread crumbs

2 tablespoons

extra virgin olive oil
DIRECTIONS:
Preheat the oven to 375°F. Grease the bottom and sides of an 8x8x2 pan with 2 tablespoons of olive oil.
Cook the asparagus until tender (I place the asparagus in a microwave safe bowl, cover and cook in the microwave for 2 minutes) and let cool. Cut the asparagus into small pieces.*
Beat the eggs with 1 tablespoon olive oil. Add asparagus, salt and pepper, mix well. Add cheese and bread crumbs to the mixture.
Pour into the prepared pan and drizzle a little olive oil on top.
Bake the torta for approximately 45 minutes. It should be nice and brown. Cool and cut into squares to serve.
*If you'd like to add decorative asparagus spears on top like I did in the photos, keep 3 cooked spears aside, split them in half lengthwise and arrange them on top before baking the torta.