Broken pieces. I didn't realize it until I just looked at these photos now, but the images are kind of fitting for how many of us feel right now. I don't want this to be a sad or depressing post – Lord knows we've had enough of those feelings over the past few days – but I did want to share a story I haven't told, some comfort (hopefully) and a recipe.
You've probably seen this poignant quote from Fred Rogers (from Mister Rogers' Neighborhood) circulating in recent days:
"When I was a boy and I would see scary things in the news, my mother would say to me, 'Look for the helpers. You will always find people who are helping.' To this day, especially in times of 'disaster,' I remember my mother's words and I am always comforted by realizing that there are still so many helpers – so many caring people in this world."
My mind can't begin to process the event that took place in Newtown, Connecticut on Friday – it's left me numb. I am a mother of small children and I used to live not far from Newtown. This all hits very close to home. I keep thinking about this quote about the "helpers"…I had the privilege and fortuity of having one of these "helpers" come my way recently. She reminds me there is still good – very good – in this world. I hope that sharing this anecdote will bring you a little comfort just as telling it is comforting to me.
A woman who I'd never met before drove by and saw the aftermath of a bad car accident I was in about a month ago. She pulled over. (I don't really like to think or talk about the accident much, but in short, a guy ran a red light and we collided in an intersection. Airbag deployed, car totaled, ambulance for the other driver. Very, very, very thankfully, my children were not in the car with me.). The woman who pulled over appeared to be in her early- to mid-thirties. She walked over to me on the sidewalk where I was being comforted by a good friend (who also happened to be at the scene) to ask if I was okay and if she could call someone for me. I let her know how much I appreciated that she stopped and that we, fortunately, had our phones and had made calls. She then returned to her car, retrieved flares and a flashlight and began directing traffic around my smashed car, which was still suboptimally blocking the middle of the street. She continued until the police arrived.
This woman's selflessness, initiative and compassion continues to awe and inspire me. She did not have to stop. She did not have to stay. But she did. I wish I knew her name. In the moment, I didn't want to ask – she'd already done so much for me, a perfect stranger she'd just happened upon, and I didn't want to obligate her any futher. All I could think to do was to thank her profusely and pledge to myself that I would do my best to pay it forward. She is truly one of the "helpers" and – just as Mister Rogers so wisely suggested – a reason for hope.
This wasn't how I'd originally envisioned this post to go, but it's what I needed to write today. Maybe you'll feel like making Two-Layer Peppermint Bark for someone…or doing something else nice or helpful…or just picking up the phone to say "I love you." There is still good in this world. Let good triumph.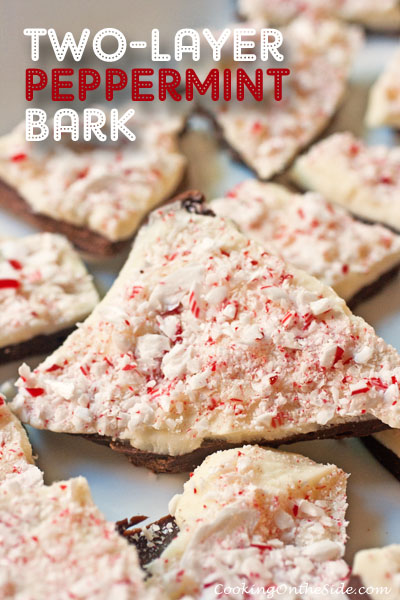 Two-Layer Peppermint Bark
Adapted from the Peppermint Bark recipe printed on the back of the McCormick Peppermint Extract package
Prep time: 30 minutes | Cook time: 0 minutes | Total time: 30 minutes | Yield: 12 servings
INGREDIENTS:
1 package (12 ounces)

semi-sweet chocolate chips

1 package (12 ounces)

white chocolate chips or candy melts

1 teaspoon

peppermint extract

1/2 cup

crushed peppermint candies or candy canes
DIRECTIONS:
Microwave semi-sweet chocolate chips in large microwavable bowl on HIGH for 1 1/2 to 2 minutes or until almost melted, stirring after 1 minute. Stir until chocolate is completely melted and mixture is smooth.
Spread on large foil-lined baking sheet to 1/4-inch thickness. Let the chocolate sit at room temperature while you prepare the white chocolate layer.
Microwave the white chocolate chips or candy melts on HIGH in 30 second increments, stirring in between, until it's completely melted and smooth. Be especially careful not to overheat white chocolate as it has a tendency to seize up.
Stir the peppermint extract into the white chocolate, then spread an even layer on top of the semi-sweet chocolate on the baking sheet.
Sprinkle with crushed candies, pressing lightly into chocolate with spatula.
Refrigerate about 10 minutes or until firm. Break into irregular pieces to serve. Store in covered container at cool room temperature or in refrigerator up to 5 days.