I've done what I used to think was the impossible, a feat reserved for only the superhuman among us. With the exception of our regular Saturday night take0ut, as of tomorrow I will have cooked dinner at home every night for the past two weeks.
Between activities, errands, a second infant and witching hour (do all children receive the memo on this one during delivery??) I'd been cooking two to three nights a week at best. Meal planning never worked for me, as I struggled to decide what to make – just thinking through a menu takes a lot of time I usually don't have. A few weeks ago I finally decided to try those weekly menus and shopping lists you see in some food and lifestyle magazines, like the Grocery Bag feature in Everyday Food and the Real Simple Recipe Shopping Lists. For once I'm glad to have the decisions made for me! I just buy all the ingredients and make all the dishes on the menu, even the ones I'm not sure I'll totally like. The ingredients in both magazines' menus are seasonal and take relatively little hands-on prep time; the Everyday Food ones, in particular, tend to be rather economical too. I save my "big fancy meals" and most baking for the weekend when I have more time and an extra set of hands (my husband's) to watch the kids. I should have started this long ago.
In the spirit of getting mid-week dinner on the table, I wanted to share this incredibly quick, easy and tasty recipe for a Fiesta Chicken Soup that comes from a carton of chicken broth. I suppose it's called "Fiesta" as it's similar to a Mexican chicken tortilla soup, with the zing of lime juice in the broth along with the flavors of jalapeño, cilantro and avocado. The way I prepared this soup actually wasn't so quick, as I made my own chicken stock and grilled some organic chicken. But for nearly as good results in under 20 minutes you could easily use a good quality ready-made stock and rotisserie chicken.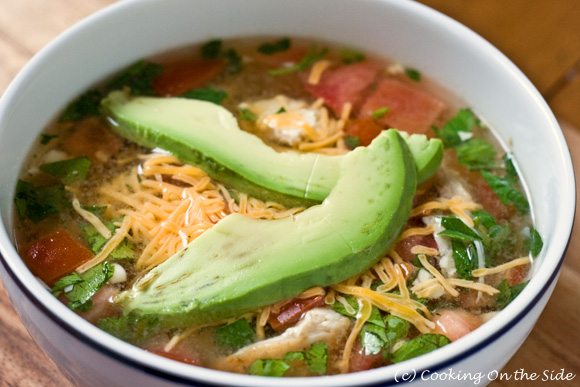 Quick Fiesta Chicken Soup
From the Fiesta Chicken Soup recipe on the back of the O Organics Low Sodium Chicken Broth package
Makes 5-6 servings
INGREDIENTS:
1 package (32 oz.) low sodium chicken broth, or make your own
1-2 teaspoons minced jalapeño, to taste
2 teaspoons minced garlic
2 medium ripe tomatoes, seeded and diced
1/4 cup chopped cilantro or flat leaf parsley
3 cups cooked chicken, cut into bite-size pieces
4 tablespoons fresh lime juice
Avocado chunks, shredded Jack cheese and warm corn tortillas, for serving
DIRECTIONS:
In a deep saucepan over medium-high heat, heat broth, jalapeños, garlic, tomatoes, cilantro or parsley, chicken and lime juice until hot, about 10 minutes. Ladle into soup bowls. Top with avocado and cheese. Serve with tortillas.