Some people get excited over finding lost change in the couch. I'm thrilled when I uncover food in the freezer that I've long forgotten about (that's freezer, not refrigerator – long forgotten fridge food is no treat!). A few months ago when I was in my "nesting" stage ahead of the birth of our new little guy I became a bit of a cooking-and-freezing fiend. I stacked up all kinds of soups, casseroles, cookies, muffins – anything I thought would keep well. Over time, as the stacks got deeper, I kind of lost track of what was in there. I suppose I could take the time to do a little inventory but it's actually kind of fun to be surprised when I open the freezer door.
I mentioned before that I'd frozen muffins. Well, I didn't remember this until after I baked for this post! I was getting ready to stash a few of these Banana Berry Muffins in the freezer when I saw not one, but two previously packed-away bags of muffins. Oh well…is there really such a thing as too many muffins?
At least I can say that these muffins are a bit different from the kind I usually make. For starters, they're made with no refined sugar. Instead they're sweetened – quite adequately, I might add – with honey and orange juice. In lieu of oil, the recipe uses a relatively small amount of butter (surprising, given that the recipe comes from a butter package) and puréed bananas for moisture.
As someone who tends to prefer muffins that are nearly like cupcakes I was not expecting to enjoy these "healthier" muffins as much as I did. Between the bananas, berries and orange juice they're loaded with flavor. And despite not having whole eggs, oil or sugar the texture is actually decent. My husband commented that the texture reminded him of the lowfat muffins they have at Starbucks, which he likes. We've been having them for breakfast for the past few days – and probably again in a few months, once I rediscover them in the freezer. 🙂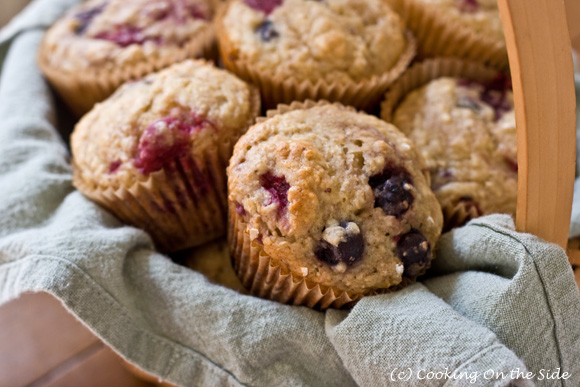 Banana Berry Muffins
From the Bumpin' Banana Berry Muffins recipe inside the Organic Valley Cultured Butter package
Serves 16
INGREDIENTS:
2 1/2 cups all-purpose flour (can substitute Spelt flour or sifted whole wheat flour)
1 cup bran*
1/2 teaspoon sea salt
1/3 cup nonfat dry milk powder
1/2 teaspoon baking soda
2 teaspoons baking powder
3 large bananas
2 egg whites
1/2 cup honey
2 tablespoons butter, melted
1 cup orange juice
2 cups berries (your choice)**
DIRECTIONS:
Preheat oven to 400°F.
In a mixing bowl, combine the flour, bran, salt, milk powder, baking soda and baking powder.
In a larger bowl (or in a blender), mash the banana with the egg whites until frothy. Stir in honey, butter and orange juice. Add to the dry ingredients and fold the berries into the batter. Mix until just combined.
Fill greased muffin cups until 2/3 full (or use unbleached baking cups). Bake for 18-20 minutes.
* I found oat bran in the bulk bins at the grocery store – 1 cup cost only about 25 cents!
** If you decide to use frozen berries, as I did, go ahead and add them to the batter without thawing.