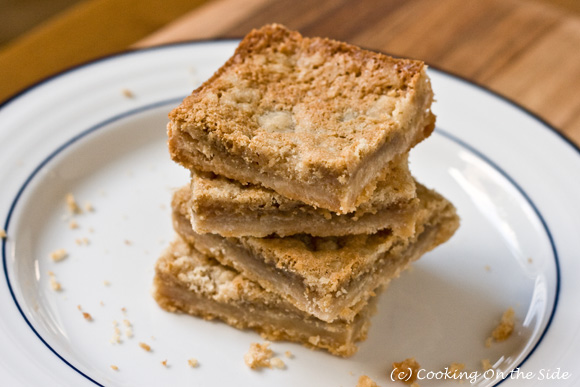 Secretly, I'm very excited it's Girl Scout cookie time. I'll admit I look forward to it every year. Their scarcity tactics work very well on me – I feel compelled to buy a bunch of boxes as it will be a whole year until they're available again. Plus there's the nostalgia factor, as I was once one of those eager little girls in brown uniforms positioned in front of the grocery store.
They got me in front of Vons over the weekend.
I had to buy a box of Thin Mints, that was a given. Beyond that, I'm all about the peanut butter. Specifically Do-Si-Dos (the peanut butter sandwich cookies) and Tagalongs (the chocolate coated ones with the peanut butter filling). You'd think this would have satisfied my hankering for peanut butter cookies for a while, but no. It actually bolstered it. Yes, despite having all of those other cookies in the house, I made the Utterly Peanut-Buttery Bars recipe from the back of the C&H brown sugar box.
With peanut butter in both the crust and the filling – along with a pretty impressive amount of sugar – these bars are for serious peanut butter lovers. As you might imagine they're incredibly rich and decadent with a nice crumbly texture. And sweet. The recipe didn't specify whether to use salted or unsalted butter, so I defaulted to unsalted as I typically do in baking. However I think I might try them with salted butter next time to complement the sweetness. I suspect it's the sweet-salty combo that makes those Girl Scout cookies so addictive!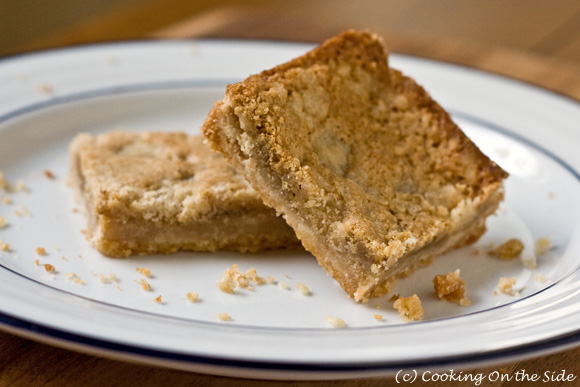 Peanut Butter Bars
From the Utterly Peanut-Buttery Bars recipe on the back of the C&H Pure Cane Golden Brown Sugar package
Makes 2 dozen bars
INGREDIENTS:
Crust:
1/2 cup soft butter (1 stick)
1/2 cup peanut butter (smooth or chunky)
1 1/2 cups granulated sugar
1/2 teaspoon vanilla extract
1 1/2 cups all-purpose flour
Filling:
2 eggs
2 tablespoons peanut butter (smooth or chunky)
1/2 cup granulated sugar
1/2 cup packed brown sugar
DIRECTIONS:
Preheat oven to 375°F.
Crust: In medium bowl mix butter, peanut butter and sugar until well blended. Stir in vanilla. Add flour and mix well (mixture will be crumbly). Reserve about 1 cup of this mixture for top. Firmly press remaining mixture into bottom of lightly greased 9×13-inch baking pan.
Filling: Beat eggs, peanut butter, granulated sugar and brown sugar together. Spread over unbaked crust. Sprinkle with reserved crust mixture. Bake approximately 20 minutes, or until set and top is golden. Cool in pan and cut into bars.