I've come to look forward to the Great Food Blogger Cookie Swap
at this time every year. I get to decide on a great cookie recipe (this year, I went with Mexican Chocolate Crackled Cookies!), make a huge batch of them, and mail them around the country to three other food bloggers (usually people I haven't met yet). My kids look forward to the swap, because we also receive three boxes of cookies at our house. Festive times. 🙂
The Mexican Chocolate Crackled Cookies have a bit of a kick to them — they're not spicy per se, but they've got a little heat from ancho chile powder. I tore the recipe out of a McCormick ad in a magazine. Mexican hot chocolate meets brownie bites is the best way to describe these cookies — I love them!
Read on for the recipe and to see the terrific cookies we "swapped" for!
Here's how mine looked when I packaged them up to mail them (I've got them wrapped in press and seal inside the tissue paper – a care package freshness tip from my mom!).

Italian Orange Cookies from Racquel at The Primitive Platter.

Almond, Cherry and White Chocolate Cookies from Ashley at Girly Obsessions.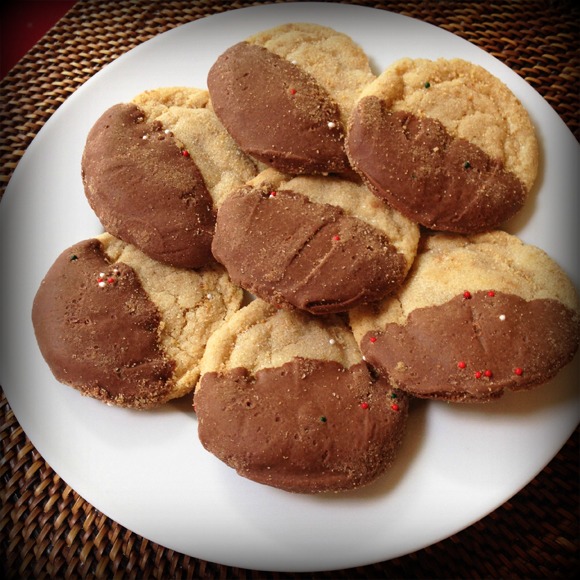 Chocolate-Dipped Peanut Butter Cookies from April at Food n' Focus.
Thanks so much for all the wonderful treats, ladies!!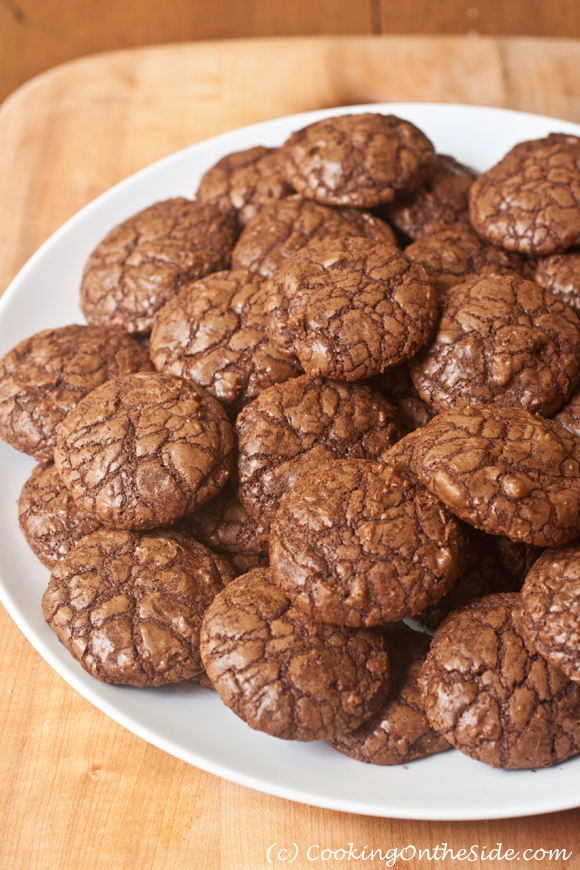 Mexican Chocolate Crackled Cookies
From the McCormick Gourmet Collection Chocolate Crackled Cookies recipe printed in an ad in Food & Wine magazine
Prep time: 20 minutes | Cook time: 30 minutes | Total time: 50 minutes
Yield: 3 1/2 dozen cookies
INGREDIENTS:
12 ounces

semi-sweet baking chocolate, divided

3/4 cup

flour

2 teaspoons

cinnamon

1 teaspoon

ancho chile pepper

1/2 teaspoon

baking powder

1/4 teaspoon

salt

1/4 cup (1/2 stick)

butter, softened

1/2 cup

granulated sugar

1/4 cup

firmly packed brown sugar

2

eggs, lightly beaten

2 teaspoons

vanilla extract
DIRECTIONS:
Melt 8 ounces of the chocolate as directed on package. Set aside. Coarsely chop remaining 4 ounces chocolate. Mix flour, cinnamon, ancho chile pepper, baking powder and salt in small bowl.
Beat butter and sugars in large bowl with electric mixer on medium speed until light and fluffy. Add eggs and vanilla, mix well. Add melted chocolate, beat until well blended. Gradually beat in flour mixture on low speed until well mixed. Stir in chopped chocolate. Drop dough by rounded tablespoons 1 1/2 inches apart on parchment paper-lined baking sheets.
Bake in preheated 375°F oven about 10 minutes or just until cookies are set and slightly cracked on top. Transfer cookies on parchment paper to wire rack; cool completely.