There was a time, not so long ago, when I wouldn't even have considered trying to make Pad Thai at home. It was out of the question. The ingredients would be way too hard to track down, I was unsure of how to use a wok and just how authentic would my version of Thailand's national dish really be anyway? It was easier to just sit down at Bangkok Bay and order my stir-fried noodles as prepared by a trained chef.
But wouldn't it just be fun to try?
I finally did give a homemade Pad Thai recipe a try this past weekend and you know what? So easy! And it actually looked and tasted like what we're used to in a restaurant (although it might be a touch Americanized vis à vis the truly authentic Pad Thai on Chez Pim). I was able to easily procure all of the ingredients at my usual store. As for the wok – well, I opted to keep that in the cabinet and just used a skillet.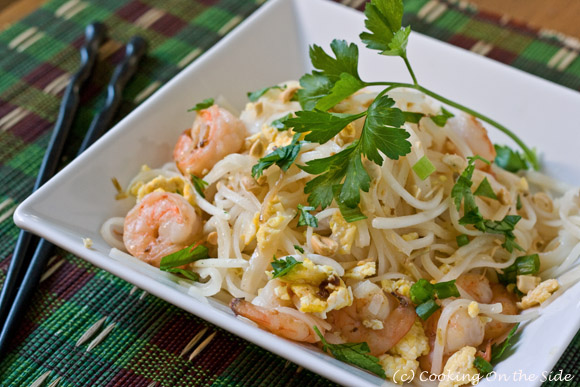 Pad Thai
Adapted from the Restaurant-Style Pad Thai recipe on the back of the Annie Chun's Pad Thai Rice Noodles package
Prep time: 20 min | Cook time: 10 min | Total time: 30 min
Yield: 2-3 servings
INGREDIENTS:
Sauce:
4 tablespoons

lime or lemon juice

3 tablespoons

fish sauce

3 tablespoons

sugar

1-2 pinches

crushed chilies or pepper flakes
Pad Thai:
2 tablespoons

vegetable oil or canola oil

2

garlic cloves, minced

1

shallot, thinly sliced

1/2 lb.

medium sized fresh prawns, cleaned and deveined (or 8 oz. chicken or diced tofu)

2

eggs, lightly beaten

8 oz.

pad thai rice noodles (cooked, drained and rinsed as directed for stir fry)

1 cup

fresh bean sprouts
Garnish:
2 tablespoons

fresh cilantro, chopped

3 tablespoons

roasted peanuts, chopped

3 tablespoons

scallions, thinly sliced

1

lime, cut into wedges
DIRECTIONS:
Mix together the sauce ingredients in a small bowl.
Heat wok or pan over high heat. Add oil, garlic, shallots and prawns. Cook until prawns are opaque; transfer to a bowl and set aside.
Add eggs to the pan (if there's not much oil left in the pan, you can add a little splash – I didn't need it), then scramble. Reduce the heat to low; add sauce and noodles. Toss until well mixed. Add prawns and bean sprouts. Toss well.
Garnish with cilantro, peanuts, scallions and lime wedges.