Crispy, hot Fried Wontons filled with pork and shrimp instantly take me back to my childhood, and the delicious homemade wontons my friend's mother would bring over to our house. I don't think I've ever eaten wontons at a Chinese restaurant – it's always been a homemade treat, which makes them extra special to me.
You'd think I would have made these wontons for the dumpling party our local San Diego food bloggers group held this past weekend. If only I'd had that forethought! Instead, I made steamed siu mai, one of my all-time favorite dim sum orders. But then I turned over the package of wonton wrappers, as I tend to do with any product, and discovered a wonton recipe on the back that called for nearly the same exact ingredients. Of course, I realized this after I'd already made my siu mai filling…no big deal, I made siu mai for the party on Saturday, wontons for the family on Sunday!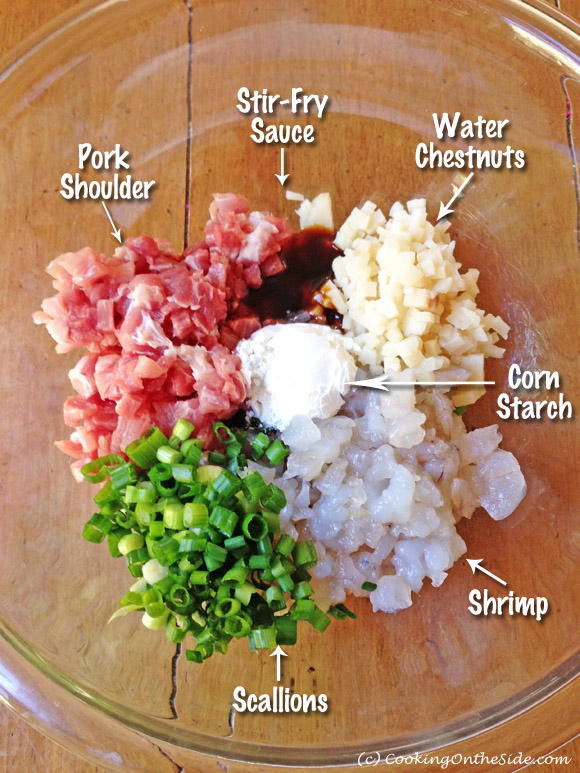 Here's a look at what's inside a wonton (I'll be honest, I never really knew until I made them!). The ones I made had pork shoulder and shrimp, but you could always substitute beef, chicken or turkey if you prefer. Scallions and stir-fry sauce add flavor and water chestnuts bring texture. The cornstarch binds everything together. That's it – pretty simple.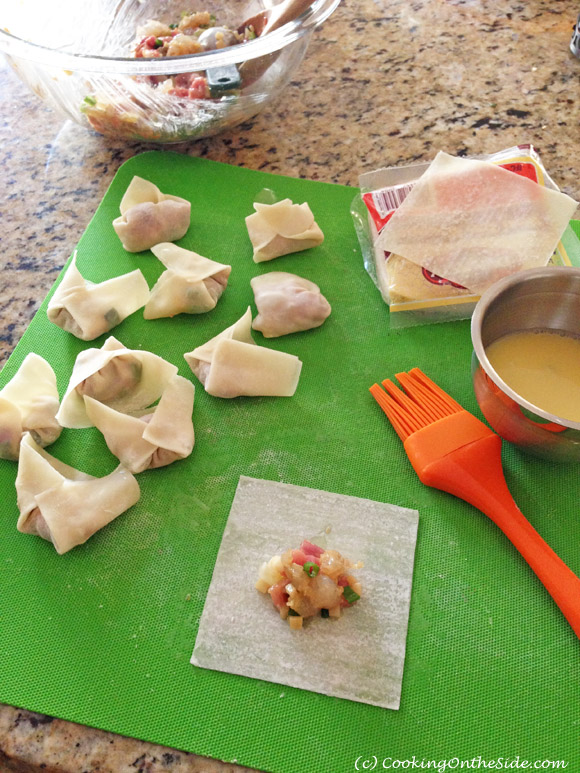 Folding the wontons was a little more challenging (at least for me), but once I got the hang of it things moved rather smoothly. Ideally, it's the kind of skill I'd prefer to learn while standing side by side with someone experienced – in the absence of that, we have YouTube:

After viewing this tutorial 4 or 5 times I felt confident enough to give it a go myself. I may not have gotten the nurse's cap fold exactly "right", but the good news is they taste the same no matter how you fold them…and even tastier dipped in sweet chili sauce (mmmm). Go ahead and give it a try!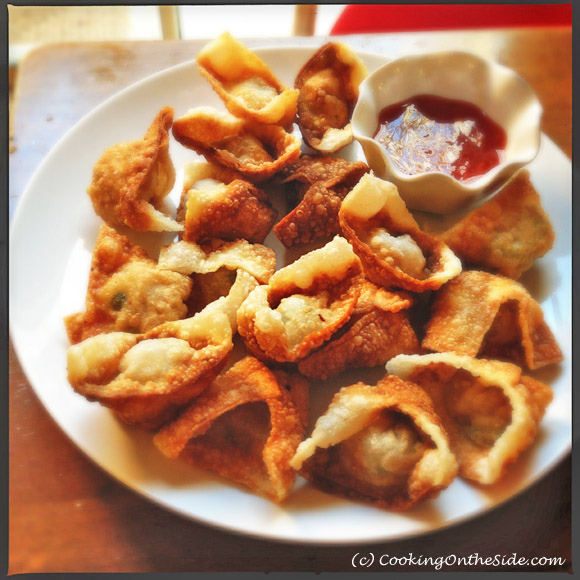 And in case you're curious to see those siu mai I made for the dumpling party, here you go: 🙂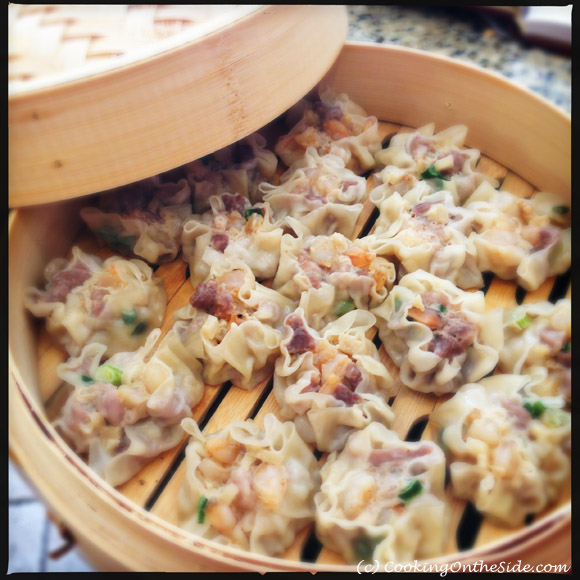 Fried Wontons
Adapted very slightly from the Dynasty Won Tons recipe on the back of the Dynasty Won Ton Wrappers package
Prep time: 25 minutes | Cook time: 15 minutes | Total time: 40 minutes
Yield: 6 servings
INGREDIENTS:
1/4 pound

lean ground pork, beef, chicken or turkey

1/4 pound

medium shrimp, shelled, deveined and finely chopped

2

green onions and tops, finely chopped

1 tablespoon

stir-fry sauce

1 tablespoon

cornstarch

1/2 can (8 oz size)

water chestnuts, drained and finely chopped*

40

wonton wrappers, thawed if frozen

1

egg, lightly beaten with 1 tablespoon water

Vegetable oil for deep-fat frying

Sweet chili sauce for dipping
DIRECTIONS:
Combine pork, shrimp, green onions and tops, stir-fry sauce, cornstarch and water chestnuts; mix well.
Place 1 scant teaspoonful of the mixture onto the center of each wrapper. Moisten two adjacent edges of the wrapper with egg mixture. Fold dry opposite corner over to meet point to form a triangle. Press edges together, forcing air from the center. Twist point at one end of fold to meet point at other end of fold. Moisten point with egg mixture and press points together to stick. (NOTE: If you find these instructions a bit confusing, as I did, I recommend watching this how-to video from Chow for help with folding wontons.)
Deep-fry, a few at a time, in oil heated to 350° to 375°F about 2 minutes, or until golden brown. Remove from oil; drain briefly on paper towel. Serve warm with sweet chili sauce for dipping, as desired.
* Cover any remaining water chestnuts with water. Refrigerate up to 1 week, changing water daily, and use as desired.