Someone in this house is turning 39 this week! All right, it's me. And I'm celebrating with Dark Chocolate Cake…and a Shake. It's my rendition of the best dessert I've had in San Diego (so far), which they make at D Bar in Hillcrest. It's good old-fashioned chocolate layer cake, with some of the softest chocolate sour cream frosting you'll ever taste, and served with a little vanilla shake on the side. It's my birthday, I can indulge a little!

Can we talk about the frosting first? I hope you can tell from the photos how almost mousse-like this frosting is. It starts with melted chocolate, rather than cocoa powder, and gets its creaminess (and subtle tangy flavor) from sour cream. When I tried this cake with this frosting at D Bar (it's the recipe they use) I couldn't get over how homemade and never-been-refrigerated it tasted. You may want to make this cake for the frosting alone.
The cake itself is probably a familiar one – it's the recipe from the back of Hershey's cocoa powder, although this time I used the Special Dark powder to step up the chocolate intensity. A notable feature about this recipe is its use of boiling water as an ingredient – the batter turns incredibly thin, but in the end you've got super-moist, fluffy cake and deeper chocolate flavor. After I posted a cupcake version of this recipe three years ago, a reader commented that she loves to bake this cake with coffee rather than the boiling water to really bring out the chocolate flavor. I gave that suggestion a try and YES, do it!
A few tips:
I finally bought an inexpensive cake leveler, and I've been very happy with the nice, even layers I've been able to achieve.
To get nice, clean slices, run your serrated knife under a hot faucet for a few seconds and dry it before slicing – it'll slide through the cake much easier. (An awesome tip I learned from my blogging friend Jennifer at Savory Simple!)
Since this frosting has sour cream, you're going to need to store the cake in the fridge once you've frosted it to keep it fresh. BUT please bring it out to room temperature before serving it!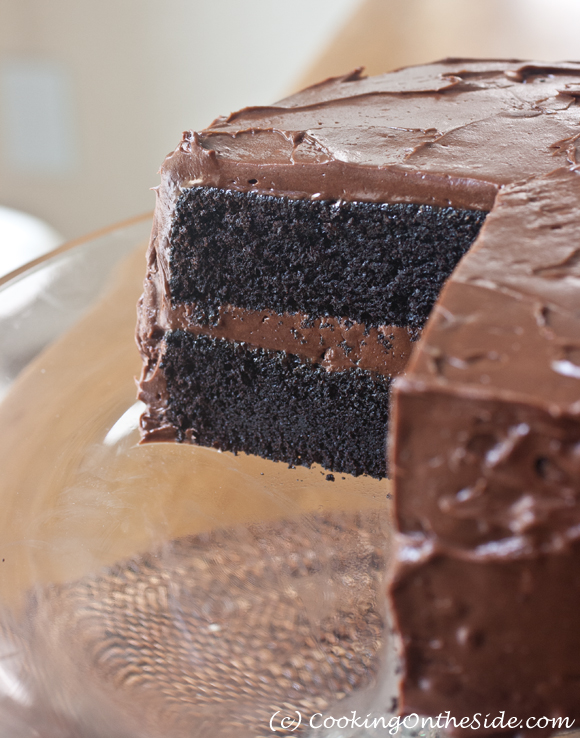 Dark Chocolate Cake…and a Shake
Dark Chocolate Cake recipe adapted very slightly from the Hershey's "Especially Dark" Chocolate Cake recipe on the back of the Hershey's Special Dark Cocoa package. Sour cream frosting recipe adapted slightly from the Grandma's Chocolate Frosting recipe by D Bar Desserts. Vanilla Milkshake recipe adapted slightly from Wicked Good Burgers (NOTE: Each batch of milkshakes will yield two servings – scale up according to the number of servings needed at the time)
Prep time: 35 minutes | Cook time: 40 minutes | Total time: 1 hour 15 minutes (plus cooling time)
Yield: 10 to 12 servings
INGREDIENTS:
Dark Chocolate Cake:
2 cups

sugar

1-3/4 cups

all purpose flour

3/4 cup

unsweetened dark cocoa powder

1-1/2 teaspoons

baking powder

1-1/2 teaspoons

baking soda

1 teaspoon

salt

2

eggs

1 cup

milk

1/2 cup

vegetable oil

2 teaspoons

vanilla extract

1 cup

boiling water or coffee
Chocolate Sour Cream Frosting:
1 cup (2 sticks)

unsalted butter

2 ounces

dark chocolate

4 ounces

unsweetened chocolate

1 cup

room temperature sour cream

1-1/2 cups (3/4 lb)

powdered sugar
Vanilla Milkshakes:
1-1/2 cups

cold vanilla ice cream

3/4 cup

cold whole milk

1/2 teaspoon

vanilla extract

Mini chocolate chips for garnish (optional)
DIRECTIONS:
Heat the oven to 350°F. Grease and flour two 8-inch round baking pans.
Stir together sugar, flour, cocoa, baking powder, baking soda and salt in large bowl. Add eggs, milk, oil and vanilla; beat on medium speed of mixer 2 minutes. Stir in boiling water or coffee (batter will be thin). Pour batter into prepared pans.
Bake 35 to 40 minutes or until a wooden pick inserted in the center comes out clean. Cool 10 minutes; remove from pans to wire racks. Cool completely.
Once the cake has cooled, make the frosting. Set up a double boiler, if you have one, or make your own: Add one inch of water to a metal pot. Place a metal bowl snugly in the pot, making sure that the bowl doesn't touch the surface of the water. Heat water to a simmer and melt butter and chocolate together in the metal bowl (or upper bowl of the double boiler). Let cool to about 105°F.
In a mixing bowl with a whip attachment, mix chocolate and butter mixture on low. Add powdered sugar on low speed all at once to create a paste. Do not be concerned if mixture looks broken at this point. Scrape down bowl well.
Add half the room temperature sour cream. Whip on low just until combined. Turn to medium speed and whip 10 seconds. Scrape bowl well. Add the remaining sour cream, then mix on low just until combined. Scrape bowl. Turn to medium speed and whip 10 more seconds. Frosting should be smooth shiny and ready to use.
To frost the cake, level your cooled cake layers with a cake leveler (or eyeball it with a serrated knife). Set one cake layer on your serving plate. Spoon out about a cup of frosting on top of the cake and spread it all around the surface with an offset spatula, all the way to the edges. Carefully set the second cake layer on top. Frost the top and sides of the cake generously.
When it's time to serve, make your shakes (each batch will make two shakes). Add the ice cream, milk and vanilla to a blender and mix the ingredients on the "mix" setting until it's thick and smooth. Serve the shakes in glasses, topped with mini chocolate chips for garnish, if desired.