From now on whenever I think of lemon bars I'll be reminded of the time that I first met a group of cousins I never knew I had. We all convened at my parents' house (it turns out they don't live that far away) for dinner the day after Christmas, just ten days ago. Their great-great-great-grandfather was my great-great-grandfather. I did the calculation and determined that makes us 3rd cousins once removed. It's a distant relation, but family is family.
One of my "new" cousins, about my same age, brought over lemon bars that day. I hadn't had them in forever and hers were fantastic. I learned that both she and her sister love to cook and that her sister even has her own special occasion cake business. Even though we're only 3rd cousins once removed I felt connected over this.
This little reunion prompted me to share a recipe for Creamy Lemon-Lime Bars today. The recipe, which I adapted from the side of a can of sweetened condensed milk, is more reminiscent of key lime pie than the traditional lemon bars my cousin made. They have a rich, creamy texture but are still very sweet, tart and refreshing. I brought limes into the mix to make things a little interesting (plus I love limes).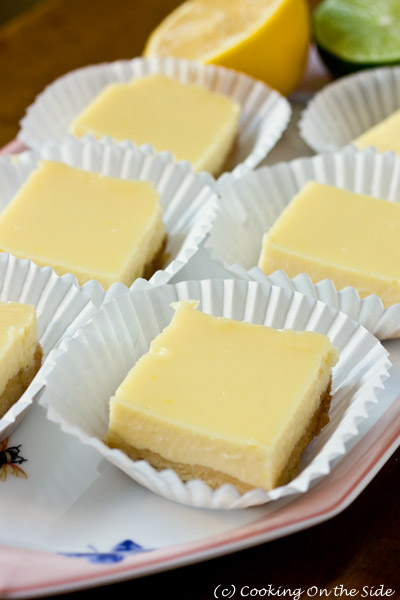 Creamy Lemon-Lime Bars
Adapted slightly from the Luscious Lemon Squares recipe on the side of the Safeway Sweetened Condensed Milk can.
Prep time: 15 minutes | Cook time: 45 minutes | Total time: 60 minutes (plus cooling time)
Yield: 16 squares
INGREDIENTS:
6 tablespoons

unsalted butter

1 cup

all-purpose flour

1 tablespoon

granulated sugar

Dash

salt

1/3 cup

freshly squeezed lemon juice

1/3 cup

freshly squeezed lime juice

1 can (14 oz)

sweetened condensed milk

2

large eggs

Powdered sugar for sprinkling on top (I omitted this)
DIRECTIONS:
Preheat the oven to 375°F. Line an 8-inch square pan with heavy foil, allowing it to extend over 2 ends.
In a medium-size microwave-safe bowl, melt the butter. Stir in the flour, sugar and salt until crumbly. Press the crust into the bottom of the pan.
Bake for 15-20 minutes or until golden. Cool 5 minutes, but leave the oven on.
Meanwhile, in a large bowl, whisk the lemon and lime juices, milk and eggs until blended. Pour over the crust. Bake for 20-25 minutes or until the center is set. Cool completely.
Lift foil with pastry to a flat surface. Dust the top with powdered sugar and cut into squares.