Spinach doesn't need cream or bacon to make it a good side dish. It's fine on its own, simply steamed or sauteed with a little lemon. That's how I typically make it.
But…
If you do happen to mix cream and bacon in with spinach – and maybe some aromatic onions and garlic too for extra savory flavor – well, you're going to wind up with a pretty excellent side dish. This Creamed Spinach, inspired by a recipe I found on the side of a package of frozen spinach, isn't the extra thick kind I've had at steakhouses in the past. Here the sauce is thinner – just the cream or milk alone absorbing into the spinach rather than a flour-thickened bechamel. It's a little bit lighter without sacrificing flavor. That works for me!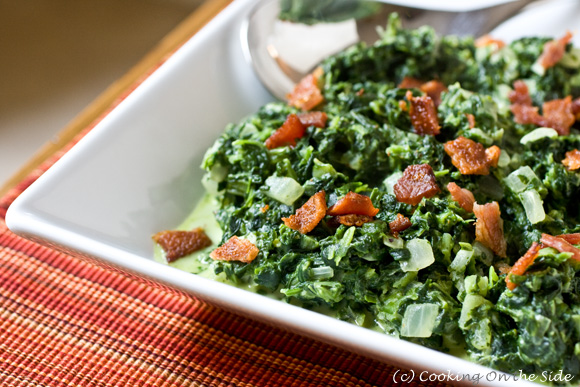 Creamed Spinach with Bacon
Inspired by the Creamed Spinach recipe on the back of the Safeway chopped spinach package and Emeril Lagasse's Creamed Spinach recipe
Prep time: 15 minutes | Cook time: 14 minutes | Total time: 29 minutes
Yield: 4 servings
INGREDIENTS:
2 tablespoons

unsalted butter

1/2 cup

finely chopped onion

1 clove

garlic, minced

16 oz

frozen chopped spinach

1 cup

heavy cream or whole milk

Dash

nutmeg

Kosher salt and pepper to taste

2 strips

fully cooked bacon, crumbled
DIRECTIONS:
Thaw the spinach according to the package directions. Drain as much of the water as you can, in batches, through a fine mesh strainer by pressing the spinach with the back of a large spoon. Set aside.
Melt the butter a large skillet over medium-high heat. Add the onions and garlic and cook, stirring occasionally, until they are soft and fragrant, about 2 minutes. Add the drained spinach and cook for another 2 minutes. Stir in the milk or cream and nutmeg and cook, stirring, until the spinach has absorbed most of the liquid, 7 to 10 minutes.
Transfer the spinach to a serving dish and garnish with the crumbled bacon.