Given that I'm allotted about 45 seconds from the time we make it downstairs until my lovable little folks start clamoring to be served breakfast you'd think I'd formulate some kind of breakfast plan to make things easier. Instead, I look a bit like Taz from Looney Tunes, spinning around the kitchen, transferring items from the fridge and pantry to the toaster oven, to the microwave, to the kitchen island, finally to the table, kids in their booster and high chair, bibs on…and I finally take a seat. Whew!
Having a really delicious baked good on hand, like this Chocolate Chunk Zucchini Bread, helps make these hectic mornings run a little smoother. I can just slice off a piece of this admittedly decadent little treat and keep the breakfast process moving.
And, yes, I call this breakfast. Brunch, at the very least. I view zucchini bread as a very close cousin to banana bread, which is solidly in breakfast territory.
This particular recipe, from inside the wrapper of a Ghirardelli chocolate baking bar, makes an  incredibly moist zucchini bread. Any qualms I had about the fair amount of oil it called for were put at bay once I tasted its light texture and gently crisp top crust. And, of course, then there's the chocolate. It's definitely among the better zucchini breads I've tried!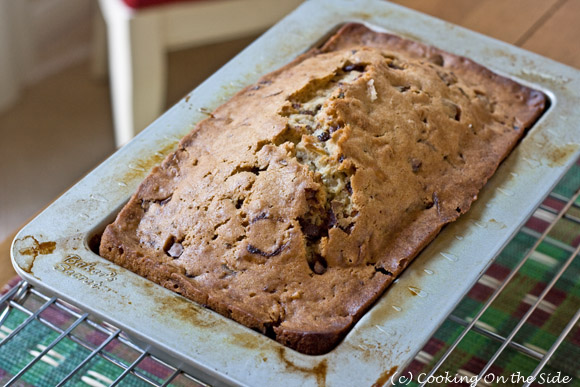 Chocolate Chunk Zucchini Bread
From the Ghirardelli Chocolate Zucchini Bread recipe inside the Ghirardelli Milk Chocolate Baking Bar package
Yields 1 loaf
INGREDIENTS:
1 1/4 cups sugar
1 cup vegetable oil
1/2 cup water
2 eggs
1 1/2 teaspoon vanilla extract
3 cups flour
1/2 teaspoon ground cinnamon
1/2 teaspoon salt (optional)
1/2 teaspoon baking soda
1/4 teaspoon baking powder
1 1/4 cup shredded zucchini
2 bars (8 oz.) milk chocolate, broken into 1/4″ pieces
DIRECTIONS:
Preheat the oven to 350°F. Grease a 9″ x 5″ pan. (I like to use baking spray)
In a large bowl, mix the sugar, oil, water, eggs and vanilla extract until blended. In a separate bowl, combine the flour, cinnamon, salt, baking soda and baking powder. Add the dry ingredients to the wet ingredients gradually, stirring until moistened. Stir in the zucchini and chocolate pieces.
Spoon the batter into the prepared pan, spreading it evenly. Bake 1 hour 20 minutes or until a tester comes out clean when inserted into the center of the loaf.
Cool the bread in pan for 15 minutes, then transfer to a wire rack to cool completely.
To store, wrap tightly in aluminum foil and keep at room temperature for up to 3 days or freeze.