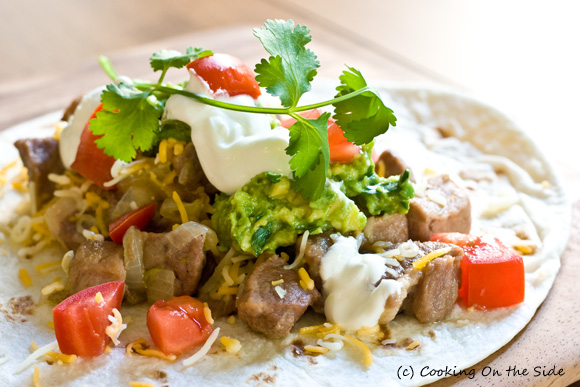 I always get the carnitas.
Mexican food is the cornerstone of local cuisine in San Diego, where I live. My husband and I have our favorite restaurants and taquerias but whenever we branch out to try a new place I always order the carnitas as a sort of benchmark of how good the food is. It's a simple dish – succulent braised pork shoulder, served with warm tortillas and a host of fresh accompaniments such as sour cream, tomatoes, salsa and cilantro. Any guilt I may feel over the less-than-healthful manner in which carnitas are traditionally prepared (i.e., in lard) disappears immediately after I wrap them up soft taco-style with "the works" and take a big bite.
I found this recipe for a somewhat healthier version of carnitas on a package of pork shoulder. It calls for braising the pork with onions, garlic and green chiles in chicken broth. While you give up the crispy strands that slow-cooking in lard yields, you still get very moist, flavorful chunks of pork that taste wonderful in a soft taco.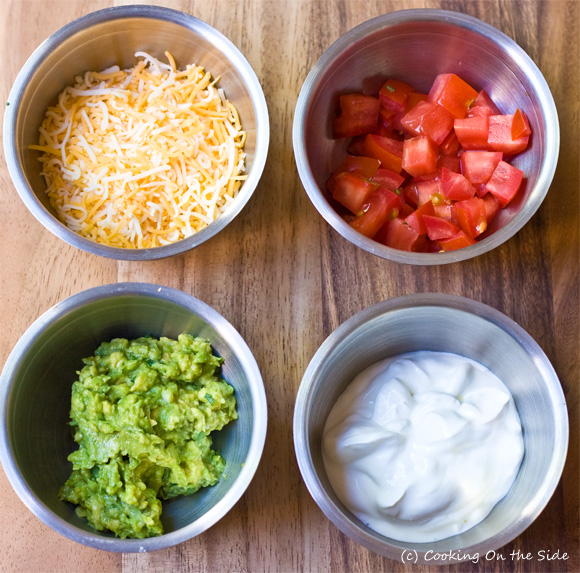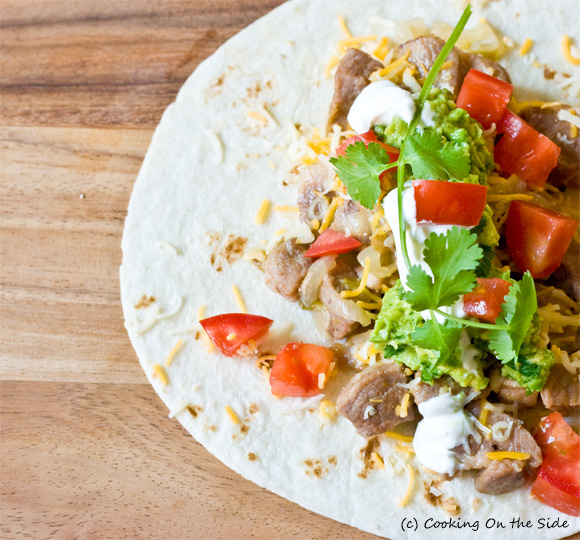 Carnitas Soft Tacos
Adapted from the National Pork Board's Arizona Carnitas with Green Chiles recipe on a pork shoulder package
Serves 8-10
INGREDIENTS:
2 1/2 pounds boneless pork shoulder, cut into bite-size pieces
3 tablespoons olive oil
1/2 teaspoon salt
1/8 teaspoon ground black pepper
1 large yellow onion, cut into thin slivers
1 4-oz. can diced green chiles, undrained
2 cloves garlic, minced
1/2 cup chicken broth
Flour or corn tortillas
Recommended Toppings:
Shredded Cheddar cheese
Chopped tomato
Chopped cilantro
Guacamole
Sour cream
DIRECTIONS:
Heat oven to 350° F.
Heat 2 tablespoons of the oil in ovenproof heavy large covered pot over high heat. Add half of the pork cubes; sprinkle with half of the salt and half of the black pepper. Cook pork until starting to brown, stirring often. Remove pork. Repeat with remaining pork cubes, salt and black pepper, adding more oil if necessary. Drain drippings from pot.
Heat remaining 1 tablespoon oil in the same pot over medium heat. Cook onion in hot oil until tender. Stir in undrained chiles and garlic; cook for 2 minutes. Return pork to pot. Add chicken broth. Cover and bake for 1 hour. Season with additional salt and pepper to taste.
Serve pork in tortillas topped with toppings.